Second time firing on protesters in Myanmar: 18 people killed in police firing, army sacked ambassador who told the state of the country weeping in UN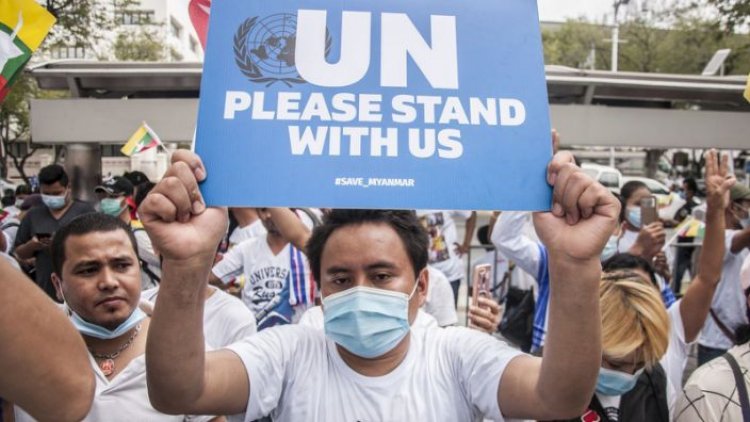 Second time firing on protesters in Myanmar: 18 people killed in police firing, army sacked ambassador who told the state of the country weeping in UN
In Myanmar, the police fired on people demonstrating for demand of the restoration of democracy on Sunday. 18 people were killed , while more than 30 were reported injured. Earlier on February 20, 3 people were killed in the firing including a woman. Myanmar's ambassador to the United Nations (UN) Ky Mo Mo Tun was weeping at the event.

Tun appealed to the UN to take stern action against Myanmar's military rule and demanded that the democratic system be restored immediately. Myanmar's military regime has sacked its ambassador, who voiced against the military in the UN.

Clashes between police and protesters in several states

There were reports of clashes between police and protesters in several states. Police is accused of firing rubber bullets, tear gas under the guise to chase down the protesters. According to local media reports, three protesters died on Sunday from police firing in Rangoon. Whereas, two deaths were reported in Davoi city.

Two people died in the firing in police firing at Mandalay. The injured people were seen carrying their companions. Blood spots were visible on the pavement. The doctors' organization Whitecoat Alliance of Medics said that more than fifty health workers have been arrested.

21 people have died so far

So far 21 people have died in police firing. Earlier on February 20, the police fired on the protesters. Three people died in this incident. In this, the death of a woman intensified the protest across the country.

Protests have continued in Myanmar since the coup and the country's supreme leader Aung San Suu Kyi was arrested. Suu's party had won in the November election, but the army refused to accept the results, saying it was rigged.