Monday Motivation Quotes: Read these 10 quotes to get motivated and have a happy week ahead!
Monday Motivation Quotes: Many thoughts come in your mind about starting a new day. We usually start our Monday with plans to do many things while some people just go with less things to do keeping in mind that everything will be like they want them to, Mainly Monday is the first working day of the week where people go to work and plan all the things they will do the whole week.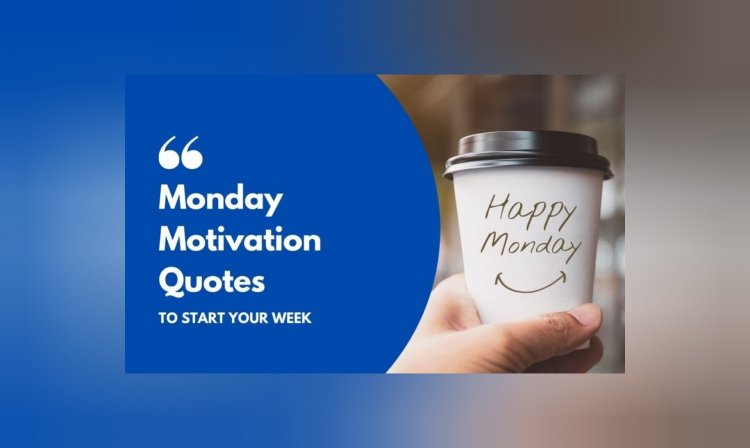 After spending weekend with family and friends we look after to a new and an exciting week that starts with Monday. Monday is usually a working day after a weekend everyone goes on their work as usual but it is very important to stay positive and motivated while you start your week.
At the same time, some people also start their new day by thanking God and expressing gratitude for the things that have happened in their life. We humans always make mistakes and sometimes difficult situations make things harder for us but as we are living in modern age we mostly refuse to show our emotions and stay brave In front of everyone no matter how many problems we are facing In our lives In such a situation, today we are going to share 10 motivation quotes for the first day of the week which is Monday, which will help you a lot in many ways and will keep you motivated in every difficult situation of your life.
10 Motivation Quotes for Monday:-
1. Don't be pushed around by the fears in your mind. Be led by the dreams in your heart.
Roy T. Bennett
2. Pursue what catches your heart, not what catches your eyes.
Roy T. Bennett
3. Start each day with a positive thought and a grateful heart.
4. Be brave to stand for what you believe in even if you stand alone.
Roy T. Bennett
5. Never lose hope. Storms make people stronger and never last forever.
Roy T. Bennett
6. Do not fear failure but rather fear not trying.
Roy T. Bennett
7. Cry. Forgive. Learn. Move on. Let your tears water the seeds of your future happiness.
Steve Maraboli
8. Happiness is not the absence of problems, it's the ability to deal with them.
Steve Maraboli
9. The man who moves a mountain begins by carrying away small stones.
Confucius
10. Without ambition one starts nothing. Without work one finishes nothing. The prize will not be sent to you. You have to win it.
Ralph Waldo Emerson