Discovering Edmonton: A Traveler's Guide to Alberta's Hidden Gem
Edmonton is a city of hidden treasures and unique experiences waiting to be uncovered. It's a place where history, culture, and nature converge to offer unforgettable adventures.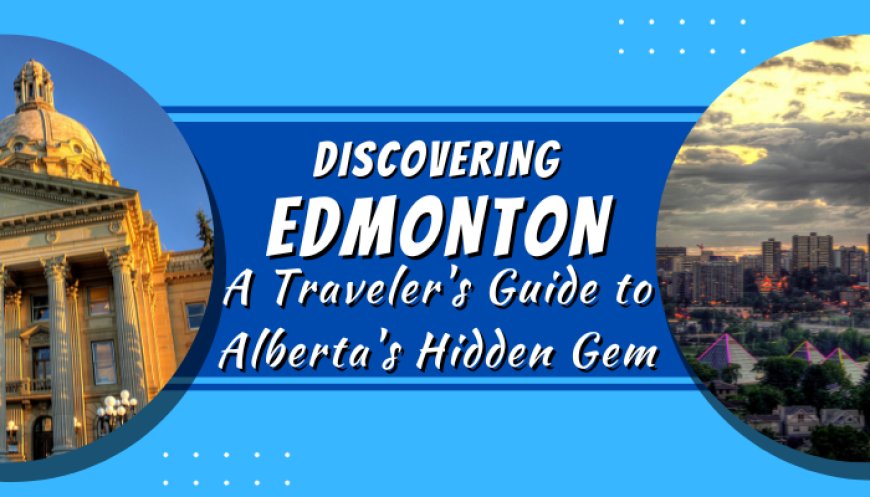 Welcome, fellow travelers! If Edmonton, Alberta, is on your travel radar, you've landed in the right place. Your trusty local guides are here to help you make the most of your Edmonton adventure. Our mission is to unveil the city's top attractions, share insights on the ideal times to visit, and arm you with practical tips to ensure a seamless journey. So, let's dive right in and get you prepped for an unforgettable Edmonton experience.
1. Edmonton River Valley: Nature's Wonderland
First up on our Edmonton adventure list is the magnificent Edmonton River Valley. This verdant wonderland, often dubbed as the "ribbon of green," stands as a testament to the city's dedication to preserving its natural beauty. Stretching across 20 miles, it offers an array of outdoor activities for every kind of traveler.
Whether you're an avid hiker, a dedicated biker, a picnic aficionado, or simply someone in search of serene natural surroundings, this place has got you covered. Hiking trails, a tranquil North Saskatchewan River, lush forests, rolling hills, and peaceful meadows await. It's a paradise for outdoor enthusiasts and nature lovers.
2. Neon Sign Museum: A Glimpse into Edmonton's Past
Located in downtown Edmonton, the Neon Sign Museum is a captivating outdoor attraction that showcases 20 fully functional historic neon signs. Each sign has its own unique story, coming to life with vibrant neon lights that create a magical spectacle, especially after sunset.
This museum offers a nostalgic journey through Edmonton's neon-rich history, allowing visitors to experience vintage signs against the backdrop of the modern cityscape. What makes it even more convenient is that it's open 24/7, so you can explore these luminous relics at any time that suits your travel schedule.
3. Sir Winston Churchill Square: The Heart of the City
Churchill Square, nestled in the heart of Edmonton, is an enchanting destination that truly comes to life during the summer months. For travelers seeking an authentic taste of the city's vibrant spirit, this square is an absolute must-visit during your trip.
Prepare to be captivated by an array of festivals, such as the Edmonton Jazz Festival and Taste of Edmonton. These events proudly showcase Edmonton's rich cultural scene. The atmosphere is electric, with art installations adorning the square, creating a visually stimulating experience that immerses you in the city's artistic essence.
4. 100 Street Funicular: A Modern Marvel
This modern marvel unveiled in 2017, offers visitors breathtaking viewpoints of Edmonton's North Saskatchewan River Valley. At its base, you'll find a scenic vista of the North Saskatchewan River Valley and panoramic views of the downtown area that you can enjoy from the viewing platform.
You can learn about the area's history, and birdwatch, enjoy sunsets, dine at nearby cafes, and even engage in outdoor activities like hiking and cycling. Depending on the season, it provides visitors with a stunning perspective of these natural and urban landscapes, making it a must-visit spot for those seeking picturesque views of Edmonton.
5. Edmonton Murals and Street Art: Uncover the City's Creativity
Edmonton's urban art scene is a hidden treasure waiting to be discovered. Scattered throughout the city streets and neighborhoods, you'll find striking murals and sculptures adorning buildings, sidewalks, and public spaces.
These artistic creations not only showcase the incredible talent of Edmonton's local artists but also offer a glimpse into the ever-evolving cultural tapestry of the city. You'll uncover the stories behind these artworks, learn about the artists who brought them to life, and gain insight into what drives Edmonton's vibrant art community.
6. Alberta Aviation Museum: A Glimpse into Aviation History
A destination you can't afford to miss, the Alberta Aviation Museum is like a time machine, transporting you back to the early days of flight and beyond. Conveniently located near Edmonton City Center Airport, it's a perfect spot for an institution dedicated to the history of aviation in the region.
Inside, you'll encounter captivating exhibits that chronicle the evolution of aviation technology and its profound impact on Edmonton's history. From vintage aircraft that once graced the prairies to artifacts offering insights into the lives of early aviators, this museum is a treasure trove of aviation heritage.
7. University of Alberta Botanic Garden: Where Nature Blossoms
The University of Alberta Botanic Garden is a sprawling 240-acre paradise featuring a diverse collection of unique and exotic plants from all around the world. Immersed within this expansive botanical wonderland, you'll discover the captivating beauty of the Alpine Garden, gain insight into the indigenous flora of the native plants collection, and marvel at the exotic treasures housed within the tropical and subtropical greenhouses.
Beyond its picturesque landscapes, the garden's unwavering commitment to plant conservation and education elevates it from a mere attraction to an indispensable resource for anyone eager to delve into the rich tapestry of global plant diversity.
8. Elk Island National Park: A Sanctuary of Pristine Beauty
Elk Island National Park is a sanctuary of pristine beauty, promising an array of experiences tailored to every nature enthusiast's desire. It showcases different facets of its natural charm throughout the year.
Spring ushers in the arrival of migratory birds, filling the skies and waterways with their vibrant presence. Summer offers warm days for hiking, canoeing, and picnicking along the picturesque shores of Astotin Lake. Autumn transforms the landscape into a breathtaking tapestry of golden foliage, a perfect backdrop for wildlife photography. In winter, the park metamorphoses into a tranquil wonderland, inviting you to explore on cross-country skis and snowshoes.
9. Where to Eat in Edmonton: A Culinary Journey
Here's a glimpse into the culinary journey that awaits you in Edmonton, encompassing a diverse range of flavors from mouthwatering local delicacies to tantalizing international cuisine. And for those who appreciate a perfectly paired beverage, don't forget to leave some room to explore Edmonton's flourishing craft beer scene, allowing you to savor every nuance of the city's rich culinary tapestry.
10. Where to Stay in Edmonton: Accommodation for Every Traveler
When it comes to finding the perfect place to rest your weary traveler's head in Edmonton, you're in luck. This vibrant Canadian city boasts a diverse array of accommodation options that cater to every traveler's needs and preferences. Whether you're looking for a luxurious retreat, a cozy boutique hotel, or budget-friendly lodgings, Edmonton has something to offer everyone.
Luxury Hotels: If you want a fancy and pampering experience, you can stay in upscale hotels often located in the city center. Prices for these hotels can range from $150 to $300 or more per night.
Boutique Hotels: Boutique hotels are cozy and unique places to stay, often found in neighborhoods like Old Strathcona or 124th Street. Prices usually range from $100 to $200 per night.
Budget-Friendly Choices:  Edmonton offers affordable options for those on a budget. You can stay in motels, hostels, or guesthouses, with prices as low as $50 to $100 per night.
Short-Term Rentals or Airbnb: If you want a home-like experience, you can rent apartments or homes through Airbnb. Prices vary, but you can often find options ranging from $70 to $150 per night.
It's a good idea to book your accommodation well in advance, especially during busy times, to get the best prices and availability. Check online travel websites like Expedia, Booking.com, and Kayak for good deals on accommodations.
Conclusion
As we conclude our journey through Edmonton, Alberta, it's evident that this city is a hidden gem waiting to be explored. Edmonton offers a diverse range of experiences that cater to every traveler's desires. Whether you're a nature enthusiast, history buff, art lover, or a foodie in search of culinary delights, Edmonton has something special in store for you. So, as you embark on your Edmonton adventure, we invite you to explore the city's top attractions, create lasting memories, and make your journey nothing short of spectacular.
We hope this traveler's guide has been a valuable resource in planning your Edmonton adventure. Remember to book your accommodations in advance and stay updated with our latest travel tips and adventures. Safe travels and may your time in Edmonton be filled with wonder and discovery! Edmonton is a city of hidden treasures and unique experiences waiting to be uncovered.