Several Steps Back: Turkey Has Withdrawn From The Responsibility Of Protecting The Woman .
This decision of Turkey is seen as a step back in the direction of women's safety. President Erdogan claimed Turkey would work on women's protection in its own way. But women do not believe his claim.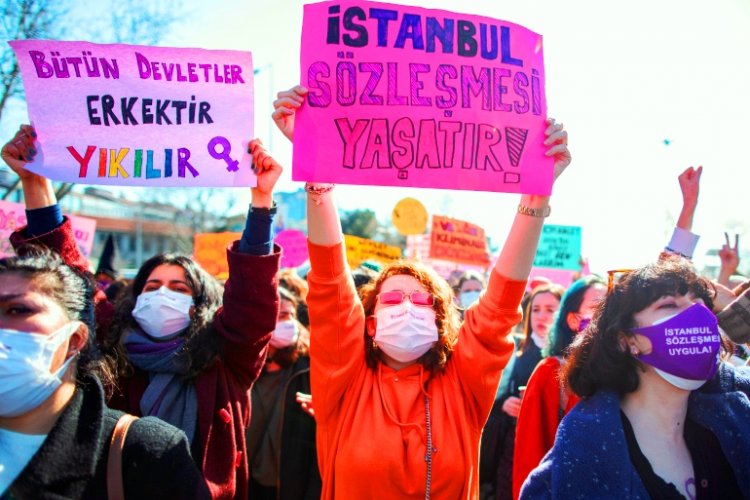 Turkey formally parted ways with the International Treaty for The Protection of Women on Thursday. This treaty took place in his capital. Hence, Istanbul is also known as the Treaty. According to Turkey, the treaty describes homosexuals as normal, which is against its social values, so it is falling apart.
The historic treaty held in capital Istanbul, women take to streets against decision
This decision is seen as going back several steps towards women's safety. President Rijib Tayyip Erdogan claims Turkey will work on women's protection in its own way. But women do not trust their claims.
So on Thursday, hundreds of women demonstrated in several cities, including the capital. Erdogan had announced his separation from the treaty in March itself. He says efforts are being made to normalize homosexuality through the Istanbul Treaty.
LGBT performance too
Thousands of women staged demonstrations in Istanbul amid police presence. It was attended by a large number of members of the LGBT community. They were shouting slogans with rainbow flags, playing music and whistles. When barricading was done to stop them. Police clashed at several places including Istiklal-Avenue and Taksim Square.
Amnesty International says shameful
Turkey's withdrawal from the treaty is disappointing and a retreat in international efforts to end violence against women, said Nad Price, a spokesman in the US government. Amnesty Turkey's Malina Bayam described the shameful move.
Amnesty Secretary-General Ignas Kalmard termed the treaty as the most developed test of women's safety and said turkey has sent a message to those who exploit and kill women that whatever they do to women, nothing will be done to them.
Rethinking the judicial process, claiming to improve the system:
Violence against women in Turkey used to take place before and after the Istanbul Treaty, Erdogan said. Announcing an action plan, he said the judicial process is being reconsidered. The system of protection of women is being improved. Last year, 409 women were killed here. So far this year, 190 murders have taken place.
What's in the Istanbul Treaty?
The countries involved are responsible for giving equal rights to their women men and other citizens.
It was considered the responsibility of the government to protect the women affected by gender-based violence and punishes the accused. Domestic violence and the accused were asked to end protection.