The Coruscating journey of the Budding Writer: Krishnaveni Natarajan, an awardee of the Sparkling Scribbler of the Year 2021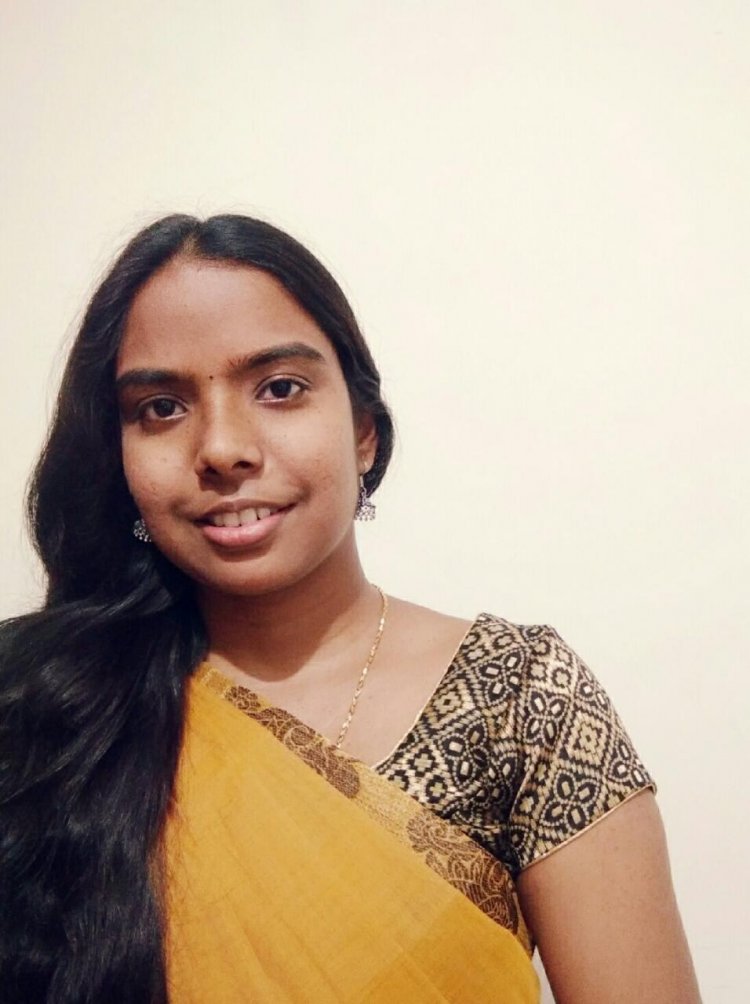 "A writer's wand would do any magic- from bringing the dead alive to preserve the beauty for aye with the divine alluring lines of poetry."
For all the night keepers whom the darkness of the night petrifies, remember the blazing Sun would rise to lit your path up anon, for all you need to do is to keep your hope alive. No matter if there is any tempests or it is pouring heavily, you carry your own sunshine when you listen to your heart. Krishnaveni Natarajan, a budding writer with an artistic endeavour sketching the portraits with the all hues of verses like the supreme personality has been awarded with the Sparkling Scribbler of the Year 2021 by Sparkling Diamonds Awards.
Krishnaveni Natarajan, a Postgraduate in Literature and a published writer who relentlessly pursue her dreams and possess the determined will to prevail everything that seemingly trails her visions. The young talented girl hails from Tirunelveli, one of the southern cities in Tamil Nadu. She has an astounding competence in writing poetry and the embellished verses with phenomenal rhymes and the beautifully inked thoughts with flowery language makes her a prowess. One of her poems titled, "My Beloved Damzel!" has published in The Literary Herald Journal. She is a co-author of many anthologies. Being a literarian by both passion and profession, she is nurturing the endearment and deep passion towards literature. She has penned her thoughts with an astounding creative, elegant delicacy of mind and decorum.
Started shelving the racks with nothing but persistence and pure hard work, she carved her artistic venture since the year 2021. Now, the utmost labour and the proficiency in writing earned her many accolades and appreciation. She has also won Spectrum Budding Writer Award 2021, and the Excellence Award 2021 by Applause Awards. A girl confined within the walls fearing the scornful remarks hurled at her, now unleashed her wings to touch the indefinite heights with her pen dipped in an indelible ink of verses.
"When the tempest of grief knocks at the door
Born the poet with artistic adroitness gift.
In the hurricane coming expedition,
The bard sings with the finest verses with elan.
The plume dipped in the rhyme of poesy
Unveil the unsaid thoughts and praise
The beauty that left unadorned and barely noticed."
Krishnaveni Natarajan
Your thoughts shape you, the consistent efforts you have taken to reach your goals a step closer will guide your future. So, here is the inspiring story of a young girl who have come a long way pursing her passion in writing and established herself as a published writer. Though she had faced many hassles in her journey, nothing could deter the fire in her. She became a rebel and made her stand firmly when the situation challenges her dreams and fiercely fought for what she desire to be. She is truly deserving for what she got and might reach far better heights in the future pursuing her literary and artistic interests.
Name: Krishnaveni Natarajan
Email Id: veninatarajan24@gmail.com
Instagram Id: @krishi_aju