A Pocketful of Dreams "The Square Care Project"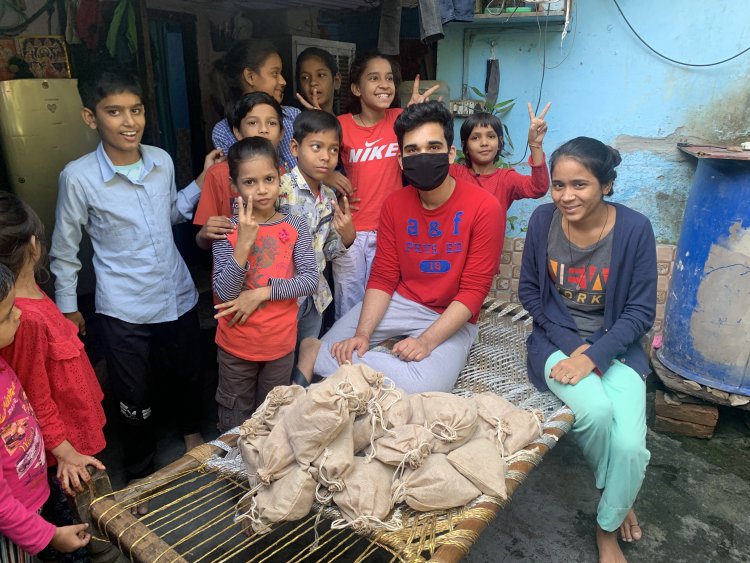 Starting the game at a young age Aaryansh Bhartiya, a young Chess player of Modern School, Vasant Vihar, gained an international rating and has played many national and international tournaments including the Commonwealth Chess Championship. When others his age were into birthday parties, this school kid was spending his childhood on a board that has helped him grow into an enlightened citizen today. Like they say champions are not just born, they grow by determination, this young boy is not just a champion at his game but also of many social and environmental causes.
He was introduced to chess at a young age, and he feels that apart from the game itself, he learned a lot of lessons from the game that he could incorporate into his daily life.
"The game has given so much to me, I want to share it with others who can benefit from it," he says.
For impoverished slum children struggling daily for food and shelter, it is very easy to go astray because of a lack of focus. Being a chess player, he realized how the game could teach some useful life lessons and give them a sense of much-needed self-confidence. He explains- For children who might have become petty thieves or criminals in absence of any motivation to achieve anything, Chess makes them disciplined and focused. Being economically weaker does not mean that they do not have alternatives. By playing chess, these kids learn to accept defeat and avoid the same mistakes in the future, and therefore while navigating life, these children will learn to deal with failure constructively. Whether they had no money for a meal on a particular day or faced the biting cold because of lack of clothes, they will understand how to pick themselves up.
Four years ago, he started teaching kids in a slum in his lane on weekends, which he calls 'The Square Care Project. The response of the parents, as well as the kids, was not very encouraging initially. While the parents thought it to be a waste of time, the kids lacked the attention span to sit through and listen. Over a period of time, as the kids developed the basic skills, they would wait every Sunday for him to come in. The spark in their eyes when he enters the slum on Sundays is something that he can't miss for the world. "It is a very positive feeling", he says.
On one such visit; he saw one of his students removing plastic bottle caps from disposable bottles while segregating waste. Being an eco-warrior, something clicked in his mind that day. He went home and worked on how he could incorporate this waste to create something unique and useful.
The regular size chess board is made of vinyl and the pieces are made of high molecular weight polymers and various fillers. The pieces and the board are both non-biodegradables. The chess set is available in wood also which uses a lot of our precious trees which give us oxygen. "Therefore, I thought that I should make a chess set combining natural as well as waste materials that can be compact and fits in a pouch pocket. This would turn out cheaper also as against the average price of a plastic and wood set which is available anywhere between Rs 250- 1500", he says.
He soon developed a prototype of a cloth chessboard and used the plastic caps to make pieces for the game. He took the help of two girls from the slum to stitch a pouch for the kit, introducing some scope for a little income from them. "One such Sunday all the kids helped to create the chess kits. It gave them a sense of achievement to create something from their own hands", he says. After developing this environmentally friendly, compact, and economical chessboard which cost him 57 Rs, he has introduced this kit to play in two slum communities that he teaches at. Now every Sunday for the first hour that he is there at the slum, all kids pitch in to develop more kits. Aaryansh has also joined hands with his friends Bhushita and Bhavik from a nonprofit NGO Samavedna who work towards this cause. They are together amplifying the reach of the game to many other slums and using this kit to practice play.
It was a moment of pride for his school when his project was given a special mention by the Ministry of education, Government of India, Innovation cell through the National Institute of Technology, Silchar. This inspires him to further carry on his project at an even larger level to bring change in society while being environmentally responsible.
His initiative might be simple, but you can see the love for the cause when he speaks about it. It goes a long way in helping these kids understand life's lessons and enhances intellectual development. It is his way of giving them a kind of leverage as most of them seem to have given up on their small dreams.
And that is why he lovingly calls his kit: "A Pocketful of Dreams"
During Covid 19, when he was could not play tournaments because of the complete lockdown in the country, he felt a big void in his life. At that point, he saw his grandfather struggling to keep himself occupied. He realized that whereas his own generation could occupy themselves with their studies and games, the older generation needed some activity to stay busy. At that point, he managed to send these kits in his neighborhood community to two old age homes for people who knew how to play the game but had either stopped playing or did not have the kit to play. On weekends he even managed to play it online with a few of the people for whom he managed a chess.com account. The blessings that he received for this gesture make the journey worth his while.