Narendra Modi wrote a letter to Imran Khan, what did he write in the letter?
While congratulating Pakistan Prime Minister Imran Khan on the occasion of Pakistan Day, Prime Minister of India Narendra Modi has said that India as a neighboring country wants a happy relationship with the people of Pakistan.He has written that to make this possible, an environment free of terrorism and hostility and full of trust and confidence is needed.
Prime Minister Narendra Modi has expressed his views in this letter written in the name of Imran Khan.At the same time, President of India Ramnath Kovind has also presented the Happy Day of Pakistan in a letter written to the President of Pakistan Arif Alvi.Narendra Modi has written this letter to Imran Khan at a time when a fresh ceasefire has been implemented on the Line of Control (Line of Control) between the two countries.
Last month, the Director General of Military Operations (DGMO) of the two countries issued a joint statement, suddenly announced a ceasefire along the Line of Control.Since then there has been silence on the border and the ceasefire is being followed completely on both sides.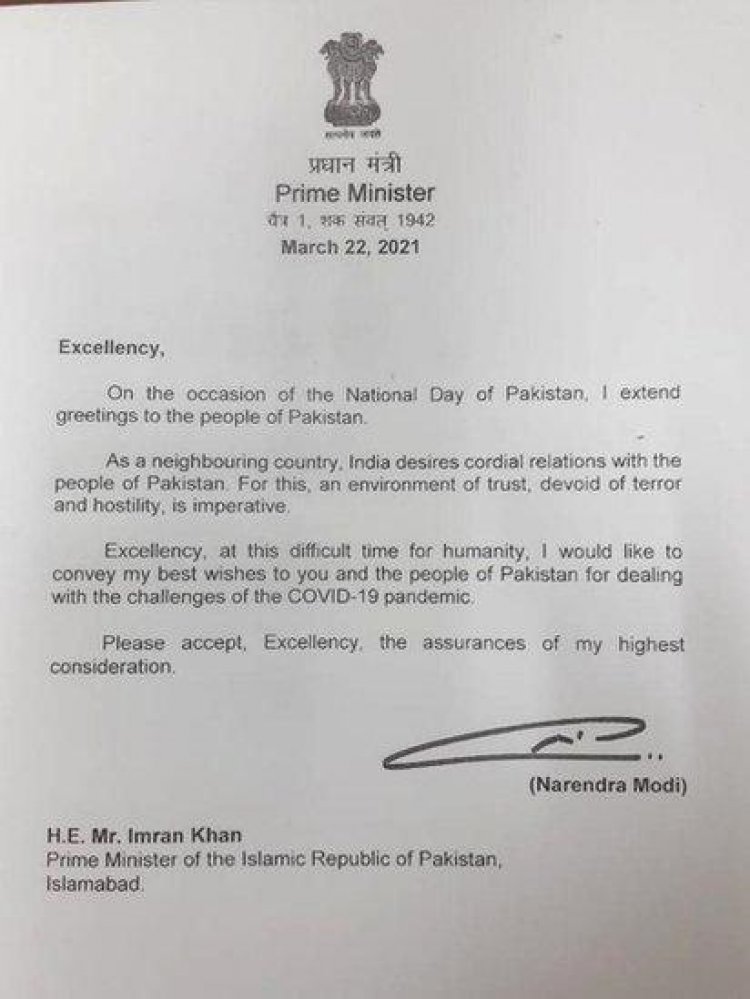 At the same time, an eight-member team of Pakistan for the Sindhu Jal Samjhota, under the leadership of Sindhu Jal Commissioner Syed Mehr-e-Alam of Pakistan, is holding talks in New Delhi with their counterparts in India. This conversation is seen after a gap after two years.Addressing Imran Khan, he wrote that in this difficult time, he wishes him and the people of Pakistan to overcome the challenges of Covid-19.A few days ago, even when Imran Khan was found infected with the corona virus, Prime Minister of India Narendra Modi sent his best wishes for him.
In the relations between India and Pakistan in recent months, there is also speculation that a third country may be present there.Saudi Arabia's Deputy Foreign Minister Adil Al Zubair admitted a few days ago that Saudi Arabia is making efforts to reduce tensions between India and Pakistan.
A report by The Hindu says that India and Pakistan have had negotiations behind the scenes in the UAE's mediation.Although India or Pakistan have not confirmed this. Analysts are also assuming that the recent events are the result of the activities going on behind the scenes