UP : Marriage of 26 hundred couples, feast of thirty thousand people.
UP Mass marriage, Moradabad, CM Yogi Aditynath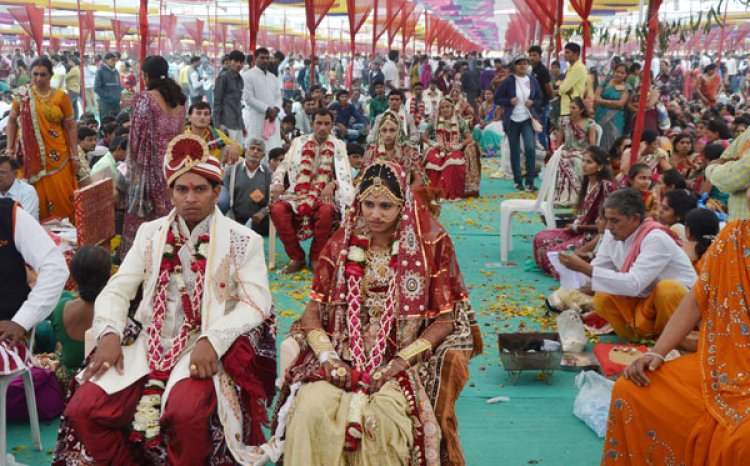 Moradabad CM Yogi Adityanath of the state will himself bless these couples by joining the mass wedding ceremony organized by the Labor Department. To complete the preparations for this wedding ceremony, the administration will have to utilize its full force. It is for this reason that about thirty thousand people have been sent to this wedding ceremony of 26 hundred couples. There is a big challenge in front of the police administration officers to handle this crowd. Officers continued to hold meetings for this late Sunday night.
For this wedding ceremony to be held on Monday, three large pandals have been built on the sprawling grounds of Budh Vihar behind the circuit house, in which separate 24 sectors are being built and altars are being built for the marriage of Hindu girls, while Muslims, Sikhs, Christian and Buddhist couples have arranged marriages accordingly. Food has been arranged for married couples and their families, for which separate pandals have been made. Guests from the Vishal Manch will bless newly married couples including the Chief Minister. About 30 thousand people are expected to reach the wedding ceremony. There will be separate parking for everyone. The police will be on the thick of safety. DM Rakesh Kumar Singh said that the daughters of construction workers will get married with pomp. Arrangements have also been made for its people. IG Ramesh Sharma, District Magistrate Rakesh Kumar Singh, SSP Prabhakar Chaudhary inspected the arrangements several times on Sunday and briefed police personnel and magistrates and gave tips to keep the arrangements in order. IG also gave instructions by taking a meeting at night.

Five ministers will also be present to bless the newly married couples.
The ceremony will be presided over by Labor Minister Swami Prasad Maurya. The distinguished guests will be Minister of State for Labor Mannu Lal Kori, District In-charge Minister and Water Power Minister Mahendra Singh, Panchayati Raj Minister Bhupendra Singh Chaudhary Minister of State for Water Power Baldev Singh Aulakh. The five ministers will bless the newly married couple.

Deputy Commissioner of Labor Vandana said that 24 sectors have been set up at the venue. Marriage of 108 Hindu couples has been arranged in one sector. There is a system of marriage of about one thousand Muslim couples. Apart from this, couples of Sikh, Christian and Buddhism will also get married. 800 Acharyas have been invited from Haridwar for Hindu couples, while Maulvi for the marriage of Muslim couples, Granthi for the marriage of Sikhism, clergy for Christianity and chants for Buddhism.
Six to ten people can be involved with the bride and groom.
The Deputy Commissioner of Labor said that breakfast and lunch have been arranged for the bride and her family, including the bride. The bride and the bridegroom may be joined by their six kin. A feast has been arranged for about thirty thousand people. The designated officer Vinod Kumar Singh will check the quality of the food. Breakfast pakora, tea and samosas will be served. Lunch includes vegetable, lentils, rice, roti, raita, salad, pickle and gulab jamun.
CM will be in the city for one and a half hours, this is a minute to minute program.
11.30 am: Departure from Helipad, Lucknow.
12.55 pm: Arrival at Helipad, Circuit House-Moradabad.
12.55pm: Departure from Circuit House.
01.00 pm: Arrival at venue at Budh Vihar.
01 to 02 pm: Mass wedding programs and various development projects inaugurated and foundation stone.
02 to 02.30 pm: Meeting with public representatives and party officials
02.30 pm: Departure from wedding venue
02.35 pm: Helipad-Circuit House
02.40 pm- Helipad- Departure from Circuit House