All you need to know about Anondita Healthcare
Under the undiverged leadership of Mr.Anupam Ghosh as a Managing Director, Anondita Healthcare Limited, the company has successfully gained prominence all over the world. He has now passed the baton to the next generation, Mr. Reshant Ghosh ,Founder & Managing Director of Anondita Healthcare and Rubber Pvt. Ltd. and Mr. Kapil Puniani as a Present Director in both of the companies. At the helm of Anondita the young and suave, Reshant is bullish over the company's global expansion, besides being deeply committed to the society, as well as the country's Make in India initiative.
Anondita Healthcare products are designed and manufactured to meet the highest standards in the medical industry. Their products range from surgical gloves and condoms. Anondita Healthcare is a leader in the manufacture of surgical gloves and condoms in the entire North Indian region.
Their gloves are made from a combination of latex and nitrile, making them both lightweight and durable. These gloves are designed to be comfortable for long periods of use and can be used in a variety of medical procedures. The company also manufactures a range of condoms to suit different needs.
Reshant Ghosh, The Mind behind Anondita Healthcare and Rubber Products Pvt. Ltd.
Anondita has been awarded the best quality certificates by Bureau of Indian Standards (BIS) and Good Manufacturing Practices (GMP) by Licensing Authority Cum Drugs Controller. Besides serving as a third-party manufacturer for a wide range of immensely popular brands, Anondita also manufacture for the Govt. of India and for several NGOs and Condom Marketing Companies. Using export quality packing material is another speciality of Anondita's products.
It has been manufacturing condoms for domestic pharma players like Mankind Pharma (Manforce), Zydus Cadila (VIGORA), and Wockhardt Ltd. (Vigo XXX), among others. The Company has an installed capacity of nearly 550 million condoms and 60 million surgical gloves per annum and it also manufactures its condom-making machines, which is one of its prime USPs.These include ultra-thin condoms, ribbed condoms, and even flavored condoms which include flavors like Nimbu, Jamun, Kacha Aam, orange, Strawberry, Mint, Chocolate, Butterscotch, Coffee, Bubblegum, Banana, and Paan, to name a few.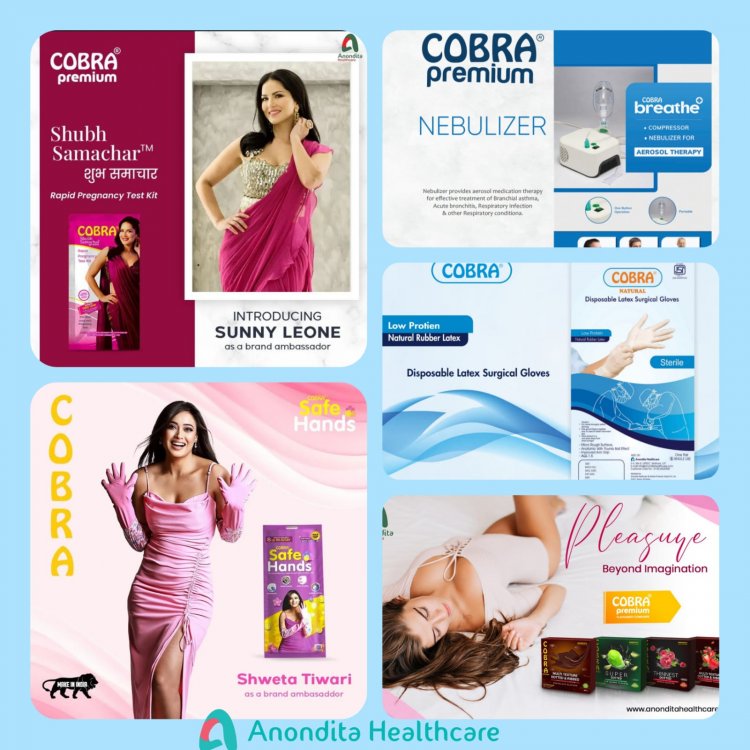 Anondita Healthcare is committed to providing quality solutions to medical professionals. All of their products are manufactured to meet the highest standards in the industry. Their products are also rigorously tested to ensure that they are safe and effective for use. Anondita Healthcare has been a leader in the healthcare industry for over three decades and continues to provide high-quality healthcare solutions to the medical community.