Meet cheerful creative personality - Prachetan Potadar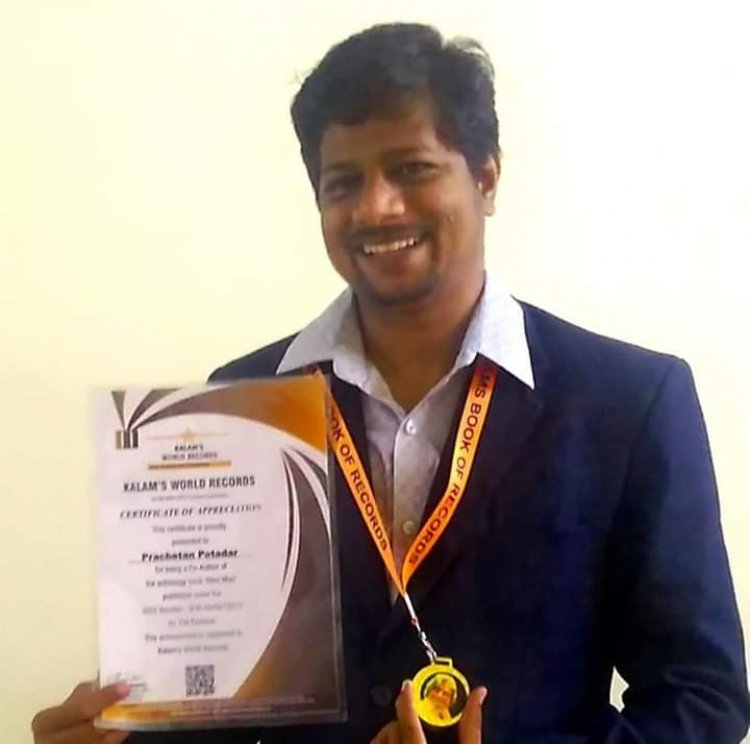 Prachetan Potadar is one of those extraordinary souls who is known for writing , advertising in creative direction , hosting interviews in an interesting spontaneous manner. In short an answer of one's true calling.
Prachetan potadar is known for his hashtag #PenPaperPrachetan which promotes positive vibes through motivational quotes , messages.
He is also hobbyist footballer and active supporter of save a girl child initiative.

Welcome prachetan , We are excited to know "How you started all this writing stuff" ?
Answer
I started writing when I was in 3rd , when that little "school world" started to make sense to me every day and in all these years I changed & grew a lot but even after all this time, I got used to people saying nice words about my work , essays , poetry and all .
How was your lockdown 2020? What was your take aways ?
Answer :
This lockdown had brought completely new prospective towards my life . My poems,quotes , articles were featured in more than 10 books such as drive of orenda , diurnal extract , it's more than you think, the eternal quest and so on.
I was also engaged in social work where we arranged food items for covid 19 warrior's and volunteers .
This was an important phase where we all came to know what is meaningful for our sustainability , where we are heading as a human being
During this lockdown ,with the banner of kalaniketan entertainments , i started to host instagram live sessions and interacted with eminent personalities of film , modelling industry . Our team gained tremendous response for all these activities . The way people accepted me as their family member was more than blessin

You recently featured in kalam book of world records please share about the journey .
An attempt for kalam book of world records was initiated by akash gupta , founder of fireboxx publications .
The theme was "meri maa- our mother " . We invited lot of fellow poets from different corners of India . We satisfied more than 8 points for an official records . After all its by the name of APJ abdul kalam . That's why this medal is special for me and always will be
Credit goes to my parents ,elder sister and everyone who blessed us

Do you hear from your readers much? What kinds of things do they say?
Answer:
People ask why I write so candidly and transparently about someone's life through #penpaperprachetan .
I received lot of reviews where people took my page pen paper prachetan as their regular councillor . I am glad when it comes to such positive vibes .
Due to this response ,i started website www.penpaperprachetan on this 12 February 2021
You will have lot of quality content over there
What advice would you give a new writer, someone just starting out?
Answer:
You don't need to wait for someone else to hire or publish your writing .
You can start a post on your own page ,blog or website , sharing the answers to things you think your readers would like to know about you.

Build consistent routine then you can ask your readers to provide the input or suggestions by themselves.
If you still need some tips
Follow me on Instagram
1) PenPaperPrachetan
https://instagram.com/penpaperprachetan?igshid=fo32d6hn2pty
2) Prachetan Potadar :
https://instagram.com/prachetanpotdar?igshid=b2it89a7n9d2