WOS : One of the most trusted publications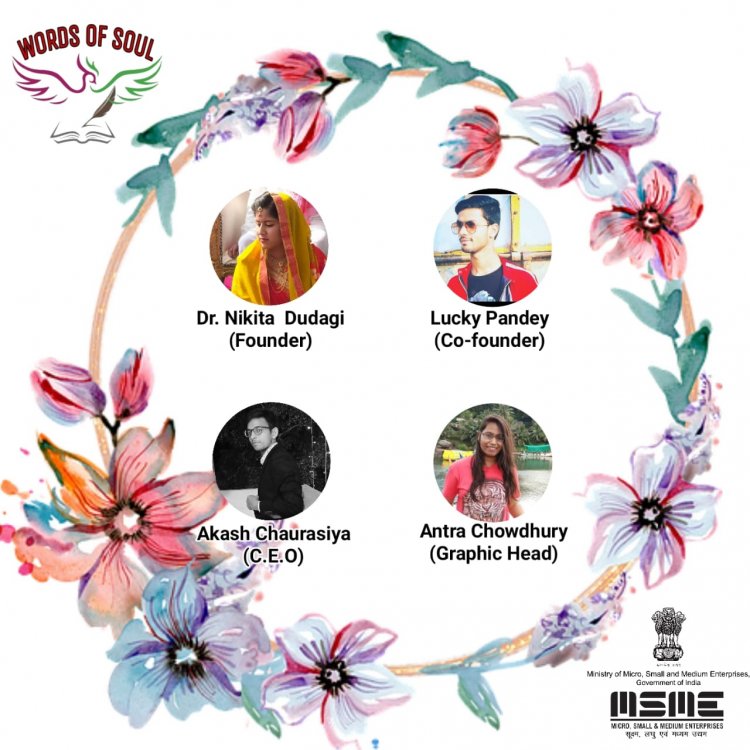 About the publication
Words of Soul is a writing Community, where we have a group of new budding writers with their talent of framing emotions into words.
Formed by Dr. Nikita Dudagi and Lucky pandey on May 15th 2021 to encourage and appreciate the enthusiastic writers. Weekly Special events and programs are being conducted to recognise the best Writer of the community. Words of Soul a Group of Aspiring writers who inks the emotions of their heart to inspire the reader mind. Now our community is launching itself as a publication. WoS is India's first ever friendly and best publication.
About the Founder
It's Dr. Nikita Dudagi from Karnataka, being a doctor is her profession but writing is her passion.
She is a part Of 100+ anthologies and a Compiler even.
She's the World Record Holder of Noel Poetry and Record Holder of PWI Book of Records and Indian Noble Award holder.
She is the Founder of Words Of Soul.
She can write simultaneously in
Three languages Kannada, Hindi and English.
She belives No one can be a better best friend than a Pen and no other Feeling is greater than being a writer.
About the Co-founder
Name:- Lucky Pandey
DOB:- 10-4-2004
Place:- Lawhar( Ballia ) (Uttarpradesh)
Lucky pandey is a multiple record holder,
He is the author of solo book "Ankhir Kyu" which contains poetry on the theme as "rape" which contains bilingual too & is enough to teach the lesson of humanity and also author of book "Pyar ka Ehsas"
Which is the collection of poetry on the theme of love in trilangual language.
His Ankhir kyu book is recorded in the (Indian Book of Record) Inkzoid book of world Record & "His Pyar ka Ehsas" book also recognized by "Inkzoid book of world record" (Glorious book of world record) Go Inkzoid award and by most precious award The "Backpenning award"
He is featured by fox interviewer U.S news portal and in Daily hunt news and in many more.
He is the Co-founder of writing community (words of soul ) which has 150+ writers which continuously working hard and "wos" hosting lots of event such as jugalbandi, Insta contest, youtube contest daily challenge etc.
He is the compiler of Book "Ill concern" & Aurat teri yahi khani and co-author in many anthology.
C.E.O
This is Akash Chaurasiya from Azamgarh, living in Lucknow. He has completed his intermediate from KV AMC Lucknow. He is a commerce Student. He loves to write Hindi poems and English Articles. He writes hilarious poems especially on the sad topics. He loves nature photography. He has participated in 150+ anthologies. He is a compiler and C.E.O of the Words of Soul Publications. His first solo book has been launched as "Mel:- Kavitaon ka" in Hindi on Amazon Kindle. He has compiled four Anthologies yet. He can work as manuscripter. He want to travel whole world, meet new people, make them friends, want to know new culture of the society.
Graphics head
Antara Choudhary is a resident of Nagpur Maharashtra. She has been writing for the last few years. SHe is fond of writing. SHe also like travelling. She says that expressing feelings in writing gives peace to the heart and expressing the heart by writing is also an art. they love to read and write.
She considers herself lucky that she writes in very simple language so that everyone can read.
Contact details
Www.wordsofsoul.net
08840329471
09648164621