Bhopal gas leak:People evacuated from the village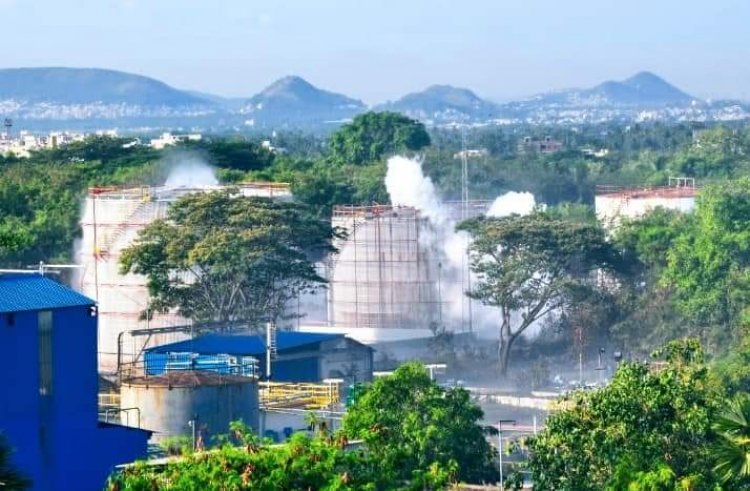 In Acharpura, Bhopal, 20 people of village Parevakheda were affected due to sudden gas leak from a closed factory for a year. Eye irritation and panic spread and from suffocation. The administration took the villagers to safe places. Administration will send notice to factory owner.
Bhopal:In Madhya Pradesh, people were reminded of a sudden gas tragedy in the capital Bhopal late on Tuesday night when ammonia gas suddenly started leaking from a factory in Acharpura in the city. People living in Parvakhera village, close to the factory, suddenly began to feel suffocated and irritation in the eyes. As soon as the information about the leakage of gas from the factory came to the fore, panic broke out in the surrounding areas.
The district administration and the municipal corporation came into action as soon as the gas leak was reported. All the top officers including the Collector arrived in a hurry and the village was evacuated. The fire brigade also arrived and water was sprayed in and around the tank from which the gas was leaking in the factory. After this, the administration announced the people that the gas leaking from the factory is not poisonous. People were advised to wash the eyes, so as to reduce the irritation.
Bhopal Collector Avinash Lavania, who reached the spot after the information about the gas leak, instructed the administrative officials for relief and rescue. Also, duty of 4 patwaris was also imposed. The Patwaris were asked to stay around the closed factory overnight. According to the administration, 20 people of the village of Parvakhera complained of eye irritation due to gas leaks. The administration evacuated the houses around the precautionary factory and brought the occupants to safe places. Those living in these houses have been asked to visit the nearby Anganwadi center or family members. After several hours of the incident, the situation was under control.
Notice to factory owner

According to administration officials, a valve was opened in this factory which had been closed for a year, due to which the leakage of gas occurred. With the help of firefighters, this valve was immediately closed, after which the situation could be brought under control. Officials said that with the help of BHEL experts, the tank of ammonia gas in the closed factory will be evacuated, so that such a situation does not come forward again. Here, the administration has also said to initiate action to issue notice to the owner of the factory, Javed Khan.
The reason for gas leakage
Regarding the reason for the gas leaking from the closed factory, the experts said that such a situation comes due to heat. Ammonia gas pressure increases due to heat. Ammonia gas is released into water during the operation of the factory. Since this factory was closed for a year, the pressure in the pipe increased and the valve broke. Therefore, ammonia gas leaked from the tank.