Cristiano Ronaldo 'Has Added to Man Utd Problems of Being a Team of Individuals', Claims Jamie Carragher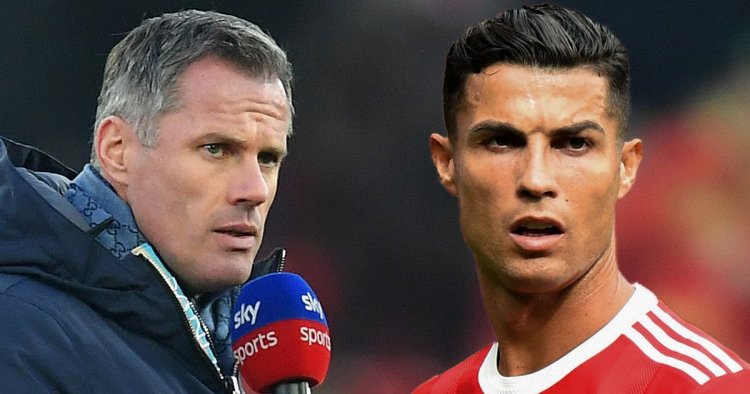 Former Liverpool defender Jamie Carragher seems to be disappointed after Cristiano Ronaldo re-joins Manchester United. According to Carragher, his arrival welcomes several problems for the club instead of fixing them.
Carragher didn't hold back his thoughts and shared a couple of things that he believes should be shared among the fans. His expressions are enough to understand the level of dismay he showed at the time of the interview. Carragher believes that Manchester United as a club has played as individuals rather than as a team so far.
What Jamie Carragher Has to Say Upon This?
According to him, this is happening since the arrival of Cristiano Ronaldo back in the club. Furthermore, this has been visible in their recent run of poor performances. He wrote in his column, "They remain a team of individuals rather than a team. Cristiano Ronaldo has added to that rather than fixed it. That's why, despite a brilliant squad, they are not yet at the level of the other three. Dropping five points in their last two home games highlighted lingering inconsistency."
Manchester United successfully brought back Cristiano Ronaldo from Juventus earlier this summer. Manchester United has become one of the favorite teams for the Premier League title after signing Ronaldo this season. However, things haven't gone well for the club according to plans in recent months.
Along with Cristiano in the team, Manchester United is struggling hard to be on top of the chart but hasn't shown any progress. Despite defeats from West Ham and Aston Villa, Cristiano Ronaldo continues to score goals. Manchester United is having a hard time this season.
The "Red Devils" is yet to face Leicester City, Manchester City, Arsenal, Liverpool, Chelsea, and Tottenham in the next two months. All eyes will be on Manchester United, whether it lives up to the expectations of its fans or not.
Pressure on Manchester United manager Ole Gunnar Solskjaer for Benching Cristiano Ronaldo
Ole Gunnar Solskjaer's idea of benching Cristiano Ronaldo backfired on himself in United's most recent Premier League match against Everton. Solskjaer's decision to bench the 36-year-old athlete results in a great loss for the team. The club did manage to score a 1-1 draw against Everton who was missing their key players due to injury.
Cristiano Ronaldo was introduced to the pitch at 57 minutes but couldn't make much of a difference. The frustrated athlete went straight down the tunnel after the full-time whistle. On the other hand, Manchester United legend Sir Alex Ferguson seems to be unhappy with Solskjaer's decision for benching Ronaldo.
Sir Alex has been the most profitable manager for Manchester United and said, "you should always start with your best players." This statement of Sir Alex managed to influence fans very strongly and this will create a burden on Solskjaer.