Dalai Lama apologized for the controversial video, said this to the child
A controversial video of Buddhist guru Dalai Lama is going viral. He has apologized for this. He said that he apologized to the boy and his family for the hurt caused by his behaviour.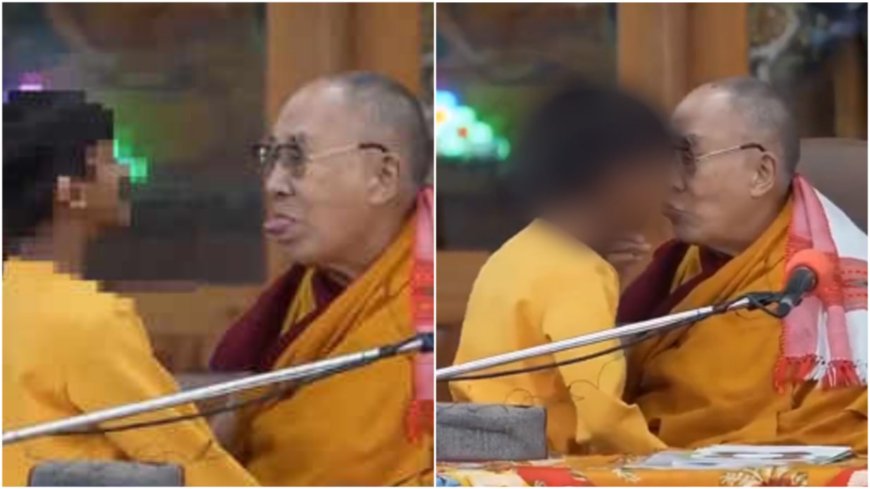 In fact, the Dalai Lama had kissed the lips of a child bowing in respect and then asked him 'Can you suck my tongue?'. After its video went viral, he was fiercely criticized on social media and angry Users commented a lot.
The boy slowly comes to him. As the child approaches him, the Dalai retracts his tongue and starts laughing. And hugs him.
Dalai then says to that child -
You want to see the good people. who spread peace and happiness. Don't follow those people, who always keep killing others.
Dalai then hugs that child. This child had climbed on the stage to pay respect to the Dalai Lama. After this video went viral, a strong reaction was seen on it. Many users raised questions on the Dalai Lama. The side of the Dalai Lama has not come forward in this video.
Sharing the video of the entire incident, Jost Brokers wrote,
What am I seeing? Is this Dalai Lama? Needs to be arrested for pedophilia. Disgusting. pic.twitter.com/rIjADTSajQ — Jas Oberoi | ਜੱਸ ਓਬਰੌਏ (@iJasOberoi) April 8, 2023
There have been controversies on the Dalai Lama before
The Dalai Lama had given a controversial statement in 2019 as well. The Dalai had said that if his successor were to be a woman, she should be 'attractive'. His comment was criticized all over the world. He later apologized for his controversial comments.
Tagging Dalai Lama, a user named Deepika Pushkar Nath wrote –
This is unbecoming and no one should justify this conduct of Dalai Lama.
This is unbecoming and no one should justify this I'll-conduct of @DalaiLama pic.twitter.com/ASdiooYpXb — Deepika Pushkar Nath (@DeepikaSRajawat) April 9, 2023