First meeting of Quad leaders: What are the signs for China?
Leaders of the US, India, Australia and Japan took part in the first virtual meeting of the quad group of four countries on Friday.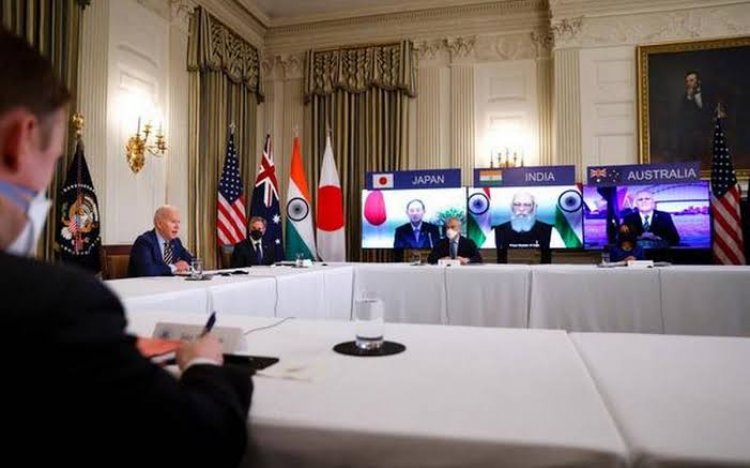 Indian Prime Minister Narendra Modi, US President Joe Biden, Australian Prime Minister Scott Morrison and Japanese Prime Minister Yoshihide Suga attended the virtual meeting.
India's Foreign Secretary Harshvardhan Shringla said after the meeting that the four leaders have agreed to cooperate in the production and distribution of the Corona vaccine in the Indo-Pacific region. Some reports said that the four countries have agreed to prepare one billion doses by next year.
International affairs expert Kashish Perpiani describes the meeting as historic, saying, "It is historical in itself to have four heads of state attend the meeting." This meeting also showed the seriousness of these countries towards the Quad Group.
Shortly before this meeting, China issued a statement that "nations should not target or harm the interests of any third party".
The Quod was formed in 2007 by the then Japanese Prime Minister Shinzo Abe. That year, the navies of the four countries conducted a joint exercise. But since then nothing concrete could be done in this direction.
Australia withdrew from the group in 2008 and since then India had not called Australia again for the maneuvers.
But amid increasing military tensions with China last year, India started efforts to reinvigorate the group.
On the other hand, Australia was also growing tensions with China on trade, security and espionage issues, due to which it came closer to the US and its allies.
During the Quad meeting, Australian Prime Minister Scott Morrison said that the future of the world will determine the Indo-Pacific region in the 21st century.
At the same time, Japanese Prime Minister Yoshihide Suga has committed to increase cooperation for the open and independent Indo-Pacific region.
The question that has been raised is whether the quad will reduce the growing influence of China? It will depend on whether this coalition agrees on clear objectives regarding China.