Kangana Ranaut shared pictures of her upcoming movie 'Emergency', mortgaged all her property to finish the shoot
Actress Kangana Ranaut has recently revealed something that may surprise her fans. Kangana has told that she had to mortgage her property during the shooting of her film 'Emergency'. Along with this she also suffered from dengue.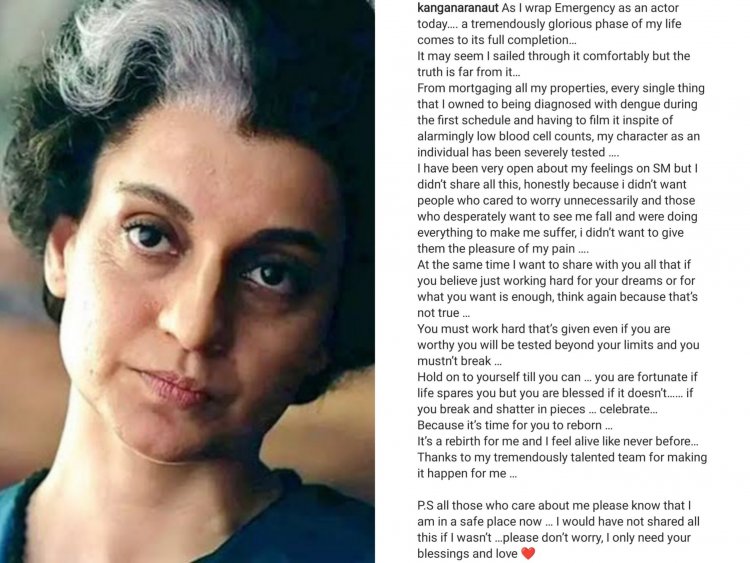 Bollywood actress Kangana Ranaut often says such things, which are shocking for the people. Once again Kangana has made a shocking disclosure. From suffering from dengue to mortgaging her properties during Emergency, we have seen Kangana Ranaut's success time and again but her road to fame was never easy.
Today as Kangana Ranaut wraps up her emergency schedule as an actress, in an Instagram post, Kangana shared several pictures of BTS from the sets of the film and spoke at length about her experience working in emergency. Note shared. She also alludes to the enemies who acted in time to prevent the Emergency from being created.
The Padma Shri actress (Kangana Ranaut) said, 'Today as an actor I have completed the shooting of Emergency... A very wonderful phase of my life, it comes to an end... It may seem like I have crossed it comfortably but the truth is far from it... From mortgaging all my properties, everything I had got dengue during the first schedule.
Filmed despite a dangerously low blood count, my character as a human being has been severely tested....I'm very open about my feelings on SM but I honestly didn't share it because I didn't want people to worry unnecessarily.
Some people want to see me fall - Kangana
She added, 'And those who wanted to see me fall and who were doing everything to make me suffer, I didn't want to give them the pleasure of my pain....Also I want to share with them you all believe that if only working hard for your dreams or what you want is enough then think again because it is not true... You must work hard given that even if you are capable, you will be tested beyond your limits and you must not break.'
View this post on Instagram
Reincarnation of kangana
Kangana further wrote, 'Hold on to yourself as long as you can... If life throws at you you are lucky but if you break and shatter into pieces you are blessed... Celebrate ... because it is time for your rebirth ... This is a rebirth for me and I feel alive like never before... Thank you to my tremendously talented team for doing this for me..P.S To those who care about me please know that I am in a safe place now ... If I was not there, I would not have shared all this ... Please don't worry, all I need is your blessings and love.'