Kaushiki Sarkar - The one who fought back darkness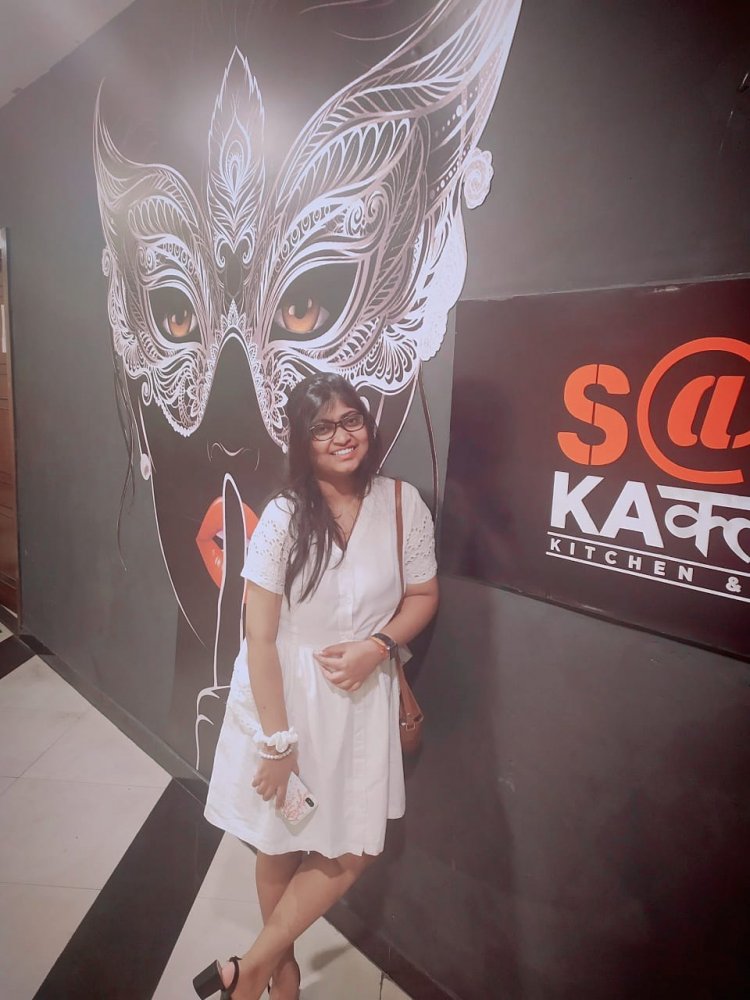 Kaushiki Sarkar is an earthling since 11th May, 2004. She was born in Kolkata, India. When she was 2 years old, she started painting and sketching. In the year 2021 she had given her paintings in the exhibition for the first time and won an award for the best painter in still life painting category. She has also won many gold medals in painting.
She is Nyctophiliac.
She buried her thoughts and emotions inside her until she started writing. In the year 2020, she started writing. Writing is her antidote and passion.
She was featured in Taare Zameen Par Magazine. She has won the title of Miss. Spotlight 2021 by Ambitious Awards, conducted by UA House Publication, Ace Of Initiative awards by The Opus Talent Awards in Best Writer category, Global Iconic Women Awards and Shahanshah Got Talent Award. Her write-up was featured in Ajmer Voice Newspaper. She was announced 4 times as top 5 in weekly writing contests conducted by Acadio. She has won numerous writing contests and achieved many titles. She is a co-author in numerous anthologies. She is a compiler and project head. She is the Founder of Inksteady Creative community. She works with different writing communities as a graphic designer and community head.
She is a part of international magazines and worked in many world record anthologies.
Lets have a small QnA to know more about her .
When did you first realize you wanted to be a writer?
Kaushiki - Since childhood I love to read books and gain knowledge about different kind of books, authors and libraries. When I was in class 6, I realized that I want to become a writer.
When did you first consider yourself a writer?
Kaushiki - In the year 2020, I considered myself as a writer.
How many books have you written or compiled ?
Kaushiki - I started compiling on 29th November, 2020.
I have compiled 5 books. Perfection Is Just An Illusion, Love - The Timeless Melody, Emotions Of The Soul, Promises and Soulmates Until The Last Star Fades.
You Are Beautiful, Blood, Toil, Tears and Sweat, Souls Of The Universe, Those Whelve Elysian Thoughts and Solace In Darkness are my ongoing anthologies.
I'm also working on my first solo book.
What is your work schedule like when you're writing?
Kaushiki - I prefer to write at night. My many poems are on moon, stars, night and darkness. I also write sometimes early in the morning, when sun rises and I can hear the chirping of birds.
What is the most difficult part about writing for you?
Kaushiki - I don't feel like there is any difficulty in writing. Writing comes from inside. I write what I feel and believe. I believe that writing comes from inside. We need to first connect with the words and lines, then only the readers can feel and understand.
One thing can be difficult and that is to find a good publishing house. But if we believe in our writing and work hard then we can get one good publishing house and maybe one-day our book will become bestseller.
Difficulties are part of life, we should work hard and believe in our dreams.
What advice would you give new writers?
Kaushiki - The advice that I would give to all the new writers is that, never stop believing in yourself, your writing and dreams.
Whenever you feel like to give up, think why you started, your journey, your struggle and how far have you came. Maybe it's taking time to achieve your goal but one day surely you will achieve your goal.
Also read books, gain knowledge about new words, work hard on your grammar and just write from your soul.