OSL Group Committed to Anti-COVID-19 Cause, Says Chairman Mahimananda Mishra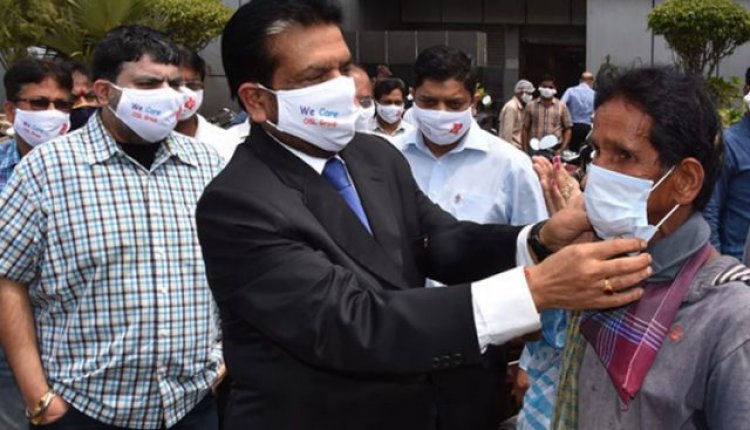 Orissa Stevedores Limited (OSL Group) led by Mahimananda Mishra came out in force to spread awareness amongst the public around COVID-19. The Odisha-based group will distribute 1 lakh masks free of cost as a part of its awareness drive.
The Mahimananda Mishra-led group was the first corporate house to answer Chief Minister Naveen Patnaik's appeal for observing stricter protocols. The Chief Minister had earlier called for a 14-day 'Mask Abhiyan' to aid the state's efforts in keeping the resurging COVID-19 cases at bay.
A well-known philanthropist, Mahimananda Mishra also stated that OSL Group is committed to bringing the poor and underprivileged under the drive too. OSL Group has never been the one to shy away from social causes in the past. The alarming rise in COVID cases across the nation prompted the group to initiate the mask distribution programme in accordance with the Chief Minister's call.
The mask distribution campaign will be a fortnight-long affair with all sections of the society looking to benefit from it. While initially concentrated in and around Cuttack, the campaign will be replicated in all the regions where the group operates.
OSL Group's directors, Chandan Mishra and Charchit Mishra along with the Director (Finance), Chinmaya Mishra, were also present at the event.
As a further extension of the mask distribution ceremony, OSL Group will also organize a two-day corporate vaccination programme. It will see 260 OSL employees in the state getting vaccinated. Additionally, 217 OSL staff have already undergone an RT-PCR test recently.
Additionally, all the safety guidelines and preventive measures are undertaken at the office premises of OSL Group. They ensure that all their branches are thoroughly sanitized as well.
"We started this drive today in Cuttack and will distribute masks in other parts of OSL operation areas across India. We are appealing to all the corporates to come out and extend their support in this period of crisis due to the COVID-19 pandemic," said Mahimananda Mishra.