Russia Ukraine War: Apart from NATO, what are the other major reasons for the Ukraine war? What is Putin's irritation with NATO?
Russia Ukraine War After all, what are the big differences between the two countries in the Ukraine war, due to which the Russian army was forced to go to war. What is the main reason for this war other than NATO? Apart from this, we will also know what will be the results of this war.
While Ukrainian troops have been clashing with Russian troops on the front lines in the last six months of war between Russia and Ukraine, Ukrainian President Volodymyr Zelensky is busy keeping the world's attention on the war. Today in this episode we will tell you what were the big differences between the two countries, due to which the Russian army was forced to go to war. Apart from NATO, what is the main reason for this war. Apart from this, we will also know what will be the results of this war.
After all, how did the war begin?
Before the start of the war, Russian President Vladimir Putin denied any plans to attack Ukraine. He had said that it was just a military exercise. In February, the Russian military announced a special military operation in Ukraine. After his announcement, explosions started reverberating in other parts of the country including Kyiv, the capital of Ukraine. This action by Putin came after the announcement of ending the Minsk peace deal and sending troops to two separatist regions of Ukraine. The reason for sending troops to these areas on behalf of Russia was said to be peace. Before the start of the war, thousands of Russian soldiers were stationed on the Ukrainian border. Since then there was speculation about an attack on Ukraine. The US was also repeatedly saying that the Russian army could attack Ukraine at any time.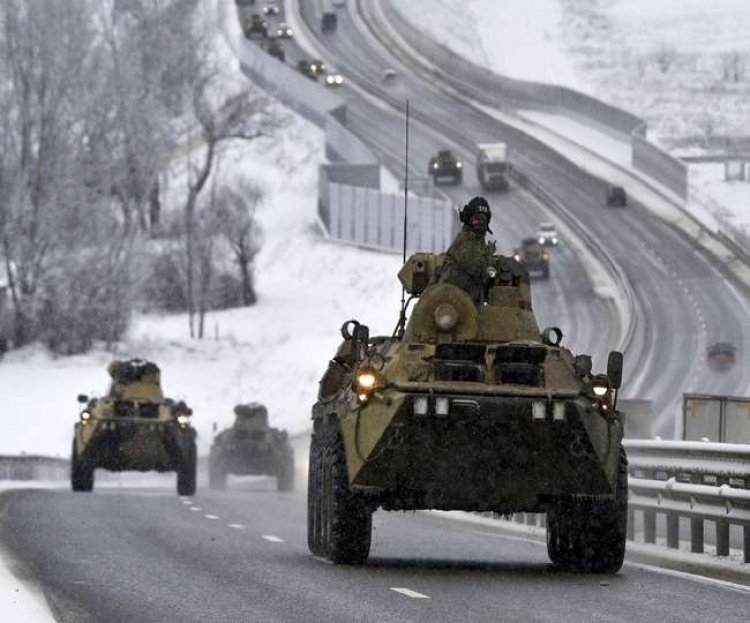 Putin's intentions become dangerous after the annexation of Crimea
Everything was fine till the year 1994. In the same year Russia signed an agreement expressing its willingness to respect Ukraine's independence and sovereignty. Ukraine, once a part of the Soviet Union, has a deep connection with Russian society and culture. The number of Russian-speaking people there is also good, but after the Russian attack in 2014, relations between the two countries have deteriorated. In 2014, the then President of Ukraine, considered pro-Russian, had to leave power. After that Russia attacked Ukraine.
After this, Russian President Putin claimed that Ukraine was formed by Communist Russia. Putin believes that the dissolution of the Soviet Union in 1991 was tantamount to the disintegration of Russia. In this sequence, he described Russians and Ukrainians as having the same nationality. Putin also said that the current leader of Ukraine is conducting an anti-Moscow project. Putin also began to argue that Ukraine was never a full-fledged country. Putin said that Ukraine has become a puppet in the hands of Western countries. After this Putin's intentions began to be doubted.
After the recognition of Ukraine's separatist region Luhansk and Donetsk region, further acrimony between the two countries increased. Russian President Putin's announcement of recognizing these separatist areas as free zones means that Russia is admitting for the first time that its troops are present in those areas. According to the Minsk agreement, Ukraine was to give special status to those areas, but due to the actions of Russia, this is hardly possible now. In fact, Russia had been preparing the atmosphere for war for a long time by accusing it of genocide in the eastern part of Ukraine. It also issued special passports for nearly seven lakh people in the rebel areas. Russia's intention behind this was to justify the action on Ukraine on the pretext of protecting its citizens.
Russia has been getting close to Ukraine and Western countries. Russia wanted Ukraine to keep its distance from NATO and the West. Things got worse when Ukraine showed interest in NATO membership. On the other hand, Russia also warned NATO to abandon its expansionist policy in Eastern Europe. Russia had strongly objected to NATO to stop its military activities in Eastern Europe. If NATO accepts this condition of Russia, then they will have to withdraw their forces from Poland, Estonia, Latvia and Lithuania. Not only this, NATO will not be able to deploy its missiles in Poland and Romania. Russia accuses NATO countries of continuously supplying weapons to Ukraine and the US is fueling tensions between the two countries.
No diplomatic way in Ukraine war
1- There seems to be no diplomatic way out in the Ukraine war. It is feared that the Russian army may try to overthrow the elected government of Ukraine by attacking the eastern, northern and southern regions of Ukraine. To act on Ukraine, Russia can deploy a large number of troops to Crimea, Belarus and near the northern border of Ukraine. During this time Russia may also have to face resistance, because Ukraine has made its army stronger than before in the last few years. Apart from this, Russia will also have to face heavy opposition from the Ukrainian people.
Russia also has other options. He can declare Ukraine a no fly zone. It can block ports there or deploy its nuclear weapons in neighboring Belarus. It is also possible that Russia will cyber-attack Ukraine. In January of this year, the website of the Ukrainian government was stalled.