'We wanted to kill Atique and, Ashraf to become popular... 'Gangster's killer of Atique Ahmed said to UP police
On April 15 at around 10.30 pm, some assailants shot dead Atiq Ahmed and his brother Ashraf while talking to the media in Prayagraj amid tight police security. This whole incident was recorded in the cameras of the media.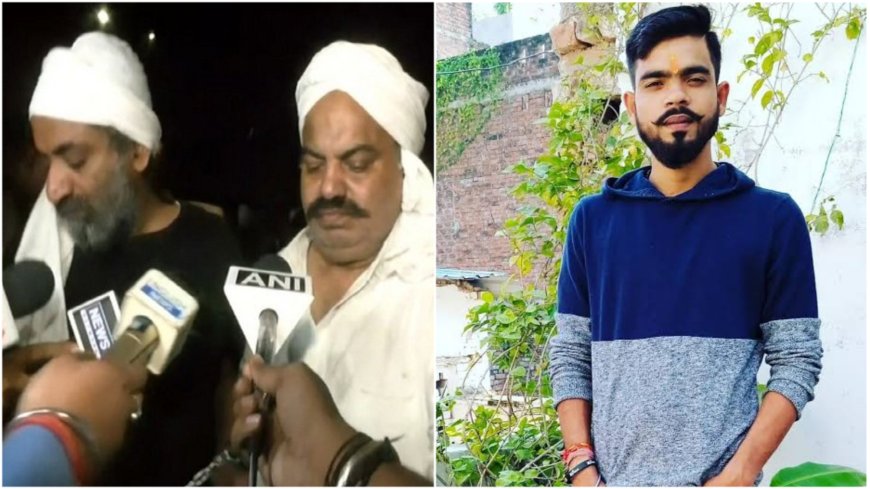 All the three accused of the attack have been arrested. However, the police of Uttar Pradesh have not yet given information as to what was the motive behind the murder.
Confession of Atique's killers
According to Dainik Jagran's ruck report, the attackers have given an alleged 'confession'. According to Dainik Jagran, the accused who opened fire allegedly said in their statement before the police, "Mafia Atique had links with Pakistan. He and his gang members had killed many innocent people. Ateeq used to kill to grab the land and did not even spare those who testified against him. His brother Ashraf also used to do this, so we killed both of them."
"We wanted to kill gangster-turned politician Atiq Ahmed and his brother Ashraf to become popular," said the three shooters involved in the killing of Atiq-Ashraf in Prayagraj yesterday, to police during interrogation, as mentioned in the FIR https://t.co/QZZBw0OSKN — ANI (@ANI) April 16, 2023
Why did they killed Atique?
Lavlesh, the accused involved in the murder of Atique Ahmed, is a resident of Kyotra locality of Kotwali city in Banda, Uttar Pradesh. The media has spoken to Lovelesh's father Yagya Tiwari after this massacre. He told that Lovelesh is the third among four brothers. He says that Lovelesh did not mean anything to anyone in the house. He was already involved in criminal activities and is also addicted to drugs.
Lavlesh Tiwari's younger brother Sarvesh Tiwari told ABP that, 'He used to take a lot of drugs, he used to come and go home very rarely. He last came home about a week ago. Sarvesh said that he came to know about this incident from YouTube yesterday.
Atiq Ahmed Shooters
Young boys who lost their Path

Arun Maurya was an orphan who lost his parents at the age of 15.

Sunny dropped out of BA, Lucknow University due to extreme poverty and family responsibilities.

Lavlesh Tiwari, a Social worker, and animal rights advocate. pic.twitter.com/Jm7dw2EHr9 — DS Balaji (@balajidbv) April 16, 2023
They had absolutely no idea that this would happen. He says that Lovelesh's nature was fine but he used to take more drugs. He did not tell anything about himself, where he was going, where he was coming from.
Lovelesh's brother told that he never thought that his brother would do this. He went to jail for the first time at the age of 20-22. Had gone to Lucknow three to four years ago, but used to roam here and there. Was associated with Bajrang Dal long ago, but had left it at present. Went to jail for slapping a girl.
What did the parents say?
Lovelesh's father Yagya Tiwari says that we have nothing to do with him. There has been no conversation with us for years. I do not know when he comes home, when he leaves.
Everyone has abandoned him. Does not work, is an addict. The case has also gone before, he has also gone to jail. I don't know anything, I don't care about it.
While talking to Aaj Tak, Lavlesh's mother Asha Devi said that Lavlesh was a devotee of God. He didn't even eat food without worshiping.
Lavlesh Tiwari is being celebrated on SM, his FB full of wishes..

His father: he had no connection wid home
Failed in BA, Addicted
Went 2 Jail earlier for s!l@pin a girl.
Emptiness in the eyes of his mother.

Take those lucky parents with u. Invite them 2 join ur fest.???? pic.twitter.com/TUqSwCZRtR — RAHUL (@RahulSeeker) April 16, 2023
He cannot believe the news that he has done such a thing. Asha Devi says, "Lovelesh was a boy who used to worship and help others. Don't know in what kind of company he got trapped that he did all this.
What did the brother of the other accused Sunny say?
On the other hand, Sunny's brother Pintu Singh, the second accused involved in the Atiq Ahmed murder case, told the media that he used to roam around like this. Cases are also registered against him but it is not known how many.
He said that he does not live here, we live separately. We were three brothers, one has died. Pintu said that he was not aware that his brother Atiq Ahmed was involved in the murder case. He ran away in his childhood.
According to media reports, Sunny is a resident of Hamirpur, his brother Pintu also lives here. Apart from this, the UP police have reached the house of another shooter Arun.
Arun Maurya is a resident of the Sauron area of ​ Kasganj, UP. The police are interrogating Arun's aunt. According to the information received, Arun has been out of the house for the last 6 years.
Killers was living in a Hotel
During interrogation, the accused told the police that they had made their hideout in the hotel two days before the execution of the murder. As the police investigation progresses, many revelations are happening.
Investigation has revealed that the killers of Atique and Ashraf had taken a hotel on rent to stay in Prayagraj and were staying in the hotel for 48 hours. The police raided the hotels where the killers had stayed and found a hanging bag of one of the killers. The rest of the killers' belongings are still likely to be in the hotel.