Switzerland: People in public referendum support ban on face covering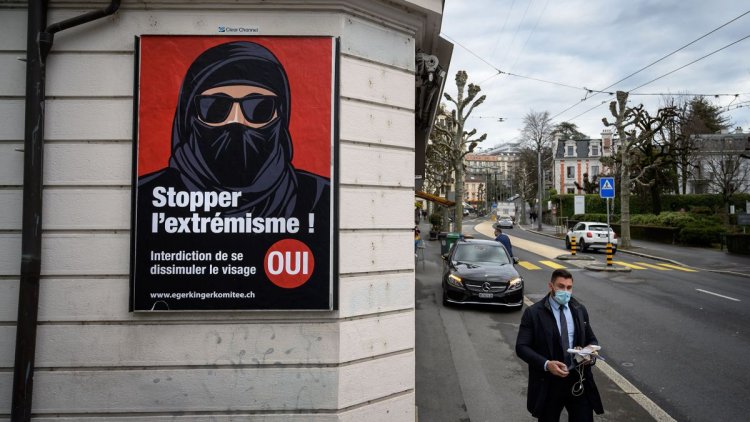 In Switzerland, people have publicly endorsed a ban on face covering. It also includes a burqa or mask worn by Muslim women.
A referendum was held in Switzerland on Sunday over a ban on covering the public face. In which people publicly voted in favor of banning face covering.
However, the vote percentage difference between those who favored the ban and those who voted against the ban was extremely low. According to broadcaster SRF estimates, while 52 per cent voted in favor of the ban, 48 per cent voted against the ban.
The right-wing Swiss People's Party also raised slogans like "Stop extremism" during the voting on Sunday. At the same time, a prominent Swiss Islamic group said that it was a 'black day' for the Muslims.
The Central Council of Muslims issued a statement saying that - Today's decision has revived the old wounds once again. This has given further impetus to the principle of legal inequality and at the same time there are clear signs of keeping Muslim minorities separate.
The Swiss government argued against the ban, saying that it is not up to the state to decide what women should wear.
According to research from the University of Lucerne, almost no one wears a burqa in Switzerland. Only 30 percent of women wear such a mask. Muslims constitute five percent of Switzerland's 8.6 million population, the majority of which are from Turkey, Bosnia and Kosovo.
Under direct democracy, the people of Switzerland have the right to vote for issues related to themselves. They are regularly invited to vote on various issues related to national and regional matters.
This is not first time:
This is not the first time that a referendum has been held on an issue related to Islamic affiliation. In the year 2009 too, citizens had voted against government advice to ban the construction of minarets.
Although the referendum that was held on Sunday, Islam was not directly mentioned in the proposal. Its purpose was to ban such people who commit violent incidents at the time of demonstrations etc. who often carry out such incidents by wearing masks etc. Despite this, most people see it as a 'burqa ban'.