West Bengal Assembly Elections: PM Modi in Kolkata for Bengal Elections; Mithun Chakraborty will be there too
West Bengal Assembly Elections: After the announcement of the eight-phase assembly election dates in West Bengal,today this rally of Prime Minister Narendra Modi is going to be the first major program of BJP in Bengal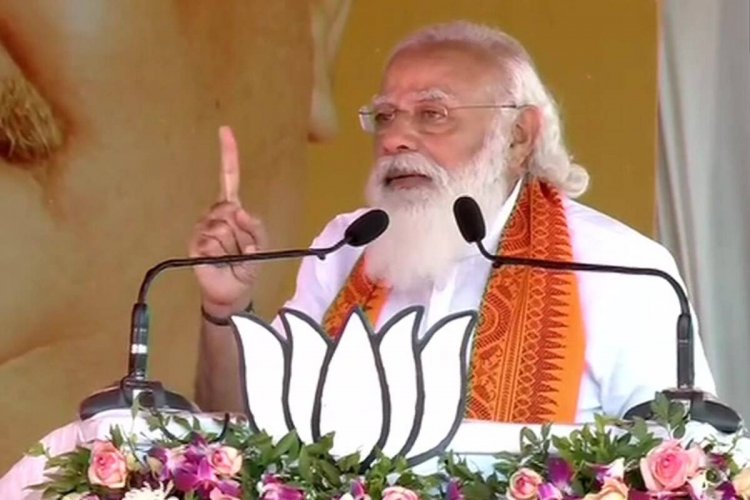 Kolkata: Prime Minister Narendra Modi will address a rally at the Brigade Parade ground in Kolkata today to give a edge to the BJP's election campaign in the West Bengal Assembly Elections 2021. The rally to be held today by the Prime Minister is being described as the culmination of the Parivartan Yatra started by the saffron party in February this year. Bollywood actor Mithun Chakraborty will also be involved in this mega rally of PM Modi.
A BJP leader said, The Prime Minister will fire the bugle of the election campaign along with a rally in the Brigade Parade Ground. Today after the announcement of the dates for the assembly elections to be held in eight phases in the state, this rally of Prime Minister Modi is going to be the first major program of BJP in West Bengal.
The West Bengal assembly elections, BJP has announced the names of 57 candidates. BJP general secretary Arun Singh said that the Central Election Committee of the party has approved the names of 57 candidates. Shubhendu Adhikari will contest from Nandigram seat. Officers left Trinamool Congress a few months ago and joined BJP.
Mithun Chakraborty will join PM's rally
Apart from Prime Minister Modi, many senior BJP leaders will be present during the rally. BJP national general secretary Kailash Vijayvargiya has told that Bollywood actor Mithun Chakraborty will also attend Prime Minister Narendra Modi's rally. Mithun Chakraborty and Kailash Vijayvargiya met on Saturday, after which it was decided that Mithun will also be present on the stage in PM Modi's rally.