Touching Feet Benefits: You will be surprised to know these amazing benefits of bowing down to touch the feet of elders
Touching Feet Benefits According to sages, touching the feet of father, grandfather, teacher and elders brings their blessings. Along with this, the person gets strength, intelligence, education, happiness and prosperity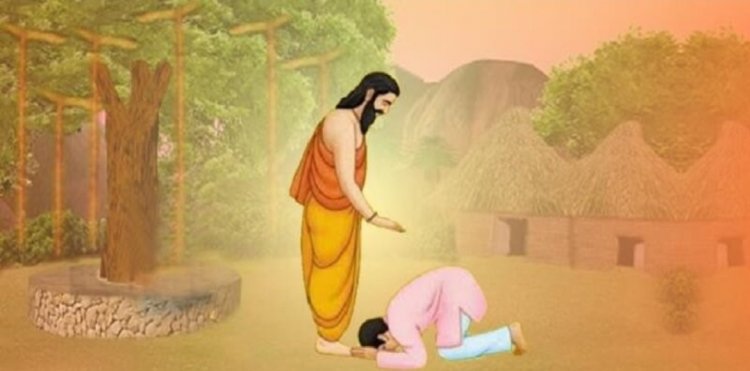 Touching Feet Benefits, image source: dharma.werindia.com
Touching Feet Benefits: In Sanatan Dharma, a person of our age is greeted with folded hands. At the same time, a person older than himself is bowed by touching his feet. This tradition is going on since divine times. Whenever a guest comes to the house, all the children of the house touch their feet and bow to them and seek blessings from them. Guests also take blessings by touching the feet of people older than themselves.
This quality is taught to children from childhood itself. This was seen during the Corona period. When the risk of infection was increasing, the whole world adopted the method of saluting in the Indian style. Even today, people greet each other with folded hands. According to experts, by touching the feet of elders and bowing to them, not only their blessings are obtained, but they also get relief in back and back pain. On the other hand, according to the sages, touching the feet of father, grandfather, teacher and elders brings their blessings. Along with this, the person gets strength, intelligence, learning, happiness and prosperity. However, in present times it is said that touching the feet increases the life of a person and increases luck. Let us know the benefits of step-sparing.
- If you are troubled by the problem of back and back pain for a long time, then every morning in the morning, touch your feet and bow to your parents. Simply put, touch the step. It is said that by doing prostration, there is very quick relief in back and back pain. During this, there is an inclination in the body. Also, the blood circulation in the body is done properly. According to the scriptures, touching the feet of the parents daily brings happiness, peace and prosperity in the life of a person.
- According to health experts, touching the feet of the elderly leads to proper blood circulation in the upper part of the waist. It helps in removing the problem of skin and hair. For this, you must get blessings by touching the feet of your parents every morning. In yoga, the feet are called prostration. This is an exercise that is done during Surya Namaskar. Apart from this, even while warming up before exercising, people try to touch the step with both their hands. This gives quick relief in back pain.