UK: Excavator workers found 'alive' bomb of World War II, the area was evacuated, roads were closed and no-fly zone declared
According to a statement on the official website of the police, the bomb is still active and there are plans to defuse it safely within 24 hours.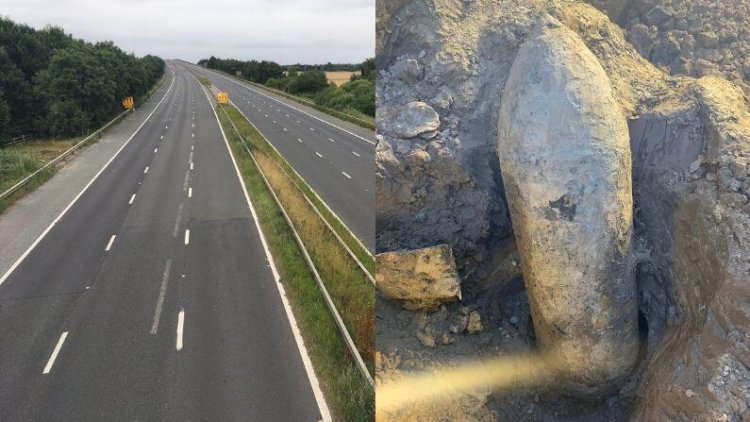 During excavation at a new housing estate site in Britain, there was a stir after a live bomb of the Second World War was found. Roads were closed in a hurry and a 'warning' was issued with a no-fly zone for any major incident. A 500-pound explosive was found during construction by workers working at The Greenways housing development site in Goole, the East Riding of Yorkshire.
The plan is to defuse the bomb safely by ordnance experts after around 1:30 pm local time. A police cordon was formed around the 'device' and large parts of the M62 and the surrounding roads were sealed off. Crowds are constantly gathering in and around the Humber Bridge. There are miles long queues of people and people are standing for several hours.
The laborer landed in the pit mistaking the iron pipe
Humberside Police said eight homes in Rockcliffe Road had been asked to clear the area "as a precaution". John Sharp, site manager for Beal Homes Development, said he was first informed of the bomb's presence on Thursday. Talking to BBC, he said that we did not know earlier what it was. A person had also got down in the pit because he thought it was a metal pipe. As soon as he saw it closely, he came to know that it was a bomb and he came out quickly.
A 1600 meter vertical no-fly zone has also been created around the blast zone. Residents living nearby have been advised to stay indoors. Also businesses have been asked to close temporarily. Routes east and west of the M62, along a section of the A614, between the J35 and the J37, are closed from 8 p.m. on Friday 23 July.
Still active bomb
According to a statement on the Humberside Police website, EOD team aides have been at the site since Friday night. They have confirmed that the bomb is still active and are planning to defuse the bomb safely within the next 24 hours. The statement said that as a precaution, all the people around have been evacuated safely. People living in the nearest area have been advised to stay indoors. Businesses in the area have been asked to remain closed. Diversion will be done on all the affected roads from 8 pm today.