Aayushi Turakhia featured as one of the 'Top 15 personalities' by Spectrum India.
A girl from Mumbai, following her Dreams, a Fashion Designer by Profession, B.Com by Graduation, Writer by Passion and currently pursuing PGPM. Here she is today, Aayushi Turakhia, by name, a girl who believes in living for today.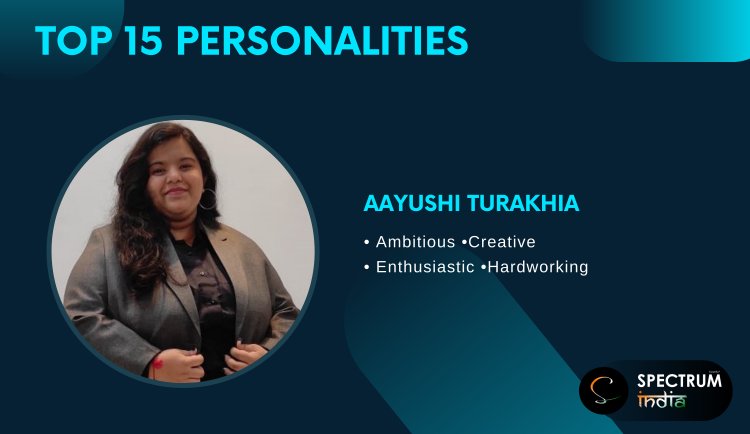 Ayushi Turakhia | Spectrum India
Everyone says that life is the most unpredictable thing that can ever happen to anyone, then why do we invest our time in planning it out, and worrying about tomorrow? Why don't we leave our past behind, live in our present, and look at what's in store for us in the future? With time eventually everything will fall into place. We are never going to be stuck at a place or at a moment where time would stop, are we? So let's just let go of whatever happened, enjoy what is happening and be excited about what will be happening. That's life. We always crib about doing things differently or hold grudges against someone or something, but why should we waste our time on something that can't be changed?
Back then, when I was in school, I always wanted to be a writer, but circumstances were such that I never chased that desire, and always held on to the incompleteness of that one wish. But then years passed, and I got occupied in the daily chores. However during my graduation, the pandemic hit, and the whole world went to that lockdown phase. Yes, the worst period for many, but do you know something? It was the best period for me. Away from the daily chores, I finally got a chance to complete that incompleteness of my life, to become a writer. I just started a normal Instagram page, aayu_writeups, and gradually was flooded with opportunities to publish my content in anthologies and yes, my hunger to be something, made me grab them. I met many writers on my journey and even explored different styles and genres of writings. And today, I am a National and a World Record Holder, along with the title of Kalam Ratna Awardee, and 8 to 9 more awards and many more recognitions.
Back then, I didn't know or even expect that my desires would be accomplished one day, but yes, they did. I just lived in the moment and grabbed the opportunities which came my way. And so is my advice to everyone reading this. Let go of your past, live in your present, look out for what's in store for you in the future. When the time is right, great things will come your way, grab them, and see the magic life brings.