Diwali Gifting Ideas: beautiful and antique jewelery to gift your special ones on Diwali
Diwali Gifting Ideas Get out of the standard gifting ideas like clothes, chocolate box crockery and dry fruit hampers and gift a few things like jewelery to your loved ones this time. The choice and jewelery which comes definitively is the best way to express your filling.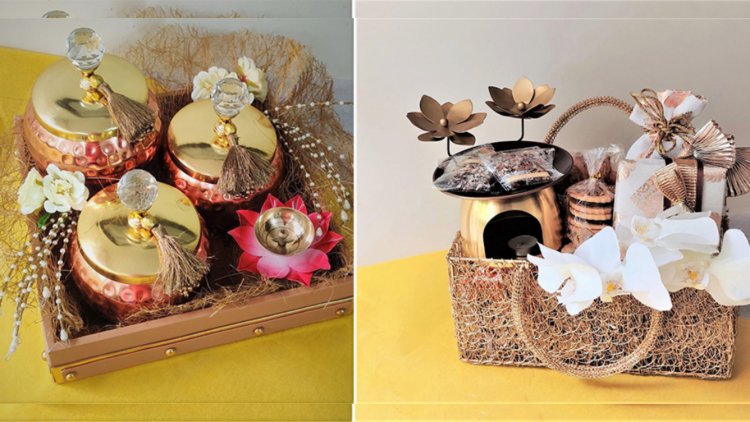 Diwali gifting ideas; image source: freepick
Diwali Gifting Ideas: The festival of Diwali is celebrated with enthusiasm and enthusiasm across the country. On this occasion, people wish each other a happy Diwali by giving gifts and sweets.
For this it is said that there can be no better occasion than Diwali to give gifts. Children and old people are all excited for this. However, while giving gifts, it must be kept in mind that we give useful gifts to our loved ones. There are many options for this, but there are some options that you give only to your special someone, one of which is jewelry.
Choosing any jewelery for gift giving can be very difficult as there are many types of designs, patterns and metals in jewelery. So to make it easy for you to choose the perfect gift, we have come up with some such jewelery options no doubt your special one will love.
1. Silver-Rose Tone Hanging Earrings
One such jewelery that most women of all ages wear, then earrings will be at the top of this list. You will get a lot of variety in this. Stud jewellery, teardrop styles, hoops and earrings that come in round shapes are also included, but if you are looking for something different with an indo western outfit, silver-rose tone long earrings will be perfect for it. Which you can wear anytime day or night.
2. Antique Pendant St.
The jewelry that comes with a pendant set never goes out of fashion. This type of jewelery in gold, silver, bronze and rose gold is the best to gift your loved ones. The best thing about pendants is that they offer a modern yet traditional look. To make it extra special, you can consciously buy different styles of pendants with a single chain, which can be worn for different outfits and different events.
3. Fancy Ring
Nowadays, different types of attractive rings are available in the market. Given this, it has become easier than ever to gift jewelry to anyone. In earlier times, rings were often associated with engagement and marriage, but this is no longer the case. From precious diamonds to birthstones, from traditional kundan rings to bands, you can buy any metal of your choice and add to the excitement and joy of Diwali for your loved one. The most interesting thing is that you can also get a letter made on the ring or get anyone's name written.
4. Delicate anklets
Anklets are also known as anklets. This is a very good gift for new brides. Which she often carries. Like any other jewellery, anklets also come in a variety of designs, which you can pair with Indian and western or rather with all kinds of outfits.
5. Stone Bracelet
If bangles have become traditional and old fashioned, then you can buy bracelets adorned with stones and crystals. There are different designs available in bracelets for men and women. Bracelet is a good option to gift someone.