India-China deadlock: heated debate between Jaishankar and Rahul Gandhi in parliamentary committee.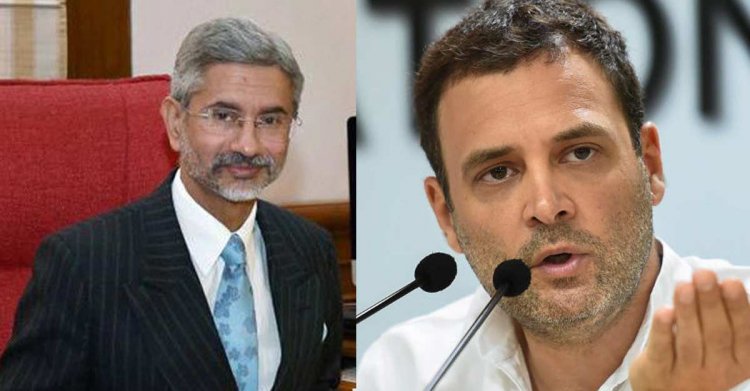 On Saturday, a heated debate took place between External Affairs Minister S Jaishankar and former Congress President Rahul Gandhi in the Parliamentary Consultative Committee. The debate between the two took place during a regular meeting called on the ongoing deadlock on the border with China. In the meeting, Rahul put the foreign policy of the Modi government in the dock.
According to the report of Hindustan Times, the Foreign Minister gave a one-hour presentation at this meeting. After this, Congress leader Rahul Gandhi said that instead of giving exhaustive list to the government, give concrete strategy for Chinese threats. His talk was also supported by Congress leader Shashi Tharoor in this meeting. Shashi Tharoor has been the Minister of State for External Affairs in the UPA Government.

Jaishankar replied that in the multipolar world no simple and simple approach can be adopted. After this Rahul Gandhi asked S Jaishankar that there is a clear strategy in your mind, which can summarize it in three sentences? Rahul asked the foreign minister, 'China is connecting the Old Silk Road to Europe and the Gulf countries through CPEC in a land route. China is making us irrelevant bypassing us. What is India doing to counter it? '
Rahul Gandhi said that China is making the world two-polar. But Jaishankar said that the rise of Russia and Japan cannot be ignored. Jaishankar said that India will do whatever it can for the multi-polar world. External Affairs Minister said that India will also have to think about multi-polar continent.
S Jaishankar said that the debate with Rahul Gandhi can be endless as they both have their own arguments. Congress MPs also defended the foreign policy of the UPA government. Foreign Minister S Jaishankar said that India's contacts and relations with neighbors have been strengthened in the last six years. The External Affairs Minister told Rahul Gandhi that relations with Gulf countries in the Modi government had strengthened considerably, whereas it was not so during the UPA government.