Maharashtra: Anil Deshmukh becomes headache for Uddhav Thackeray
After the explosive letter from former Mumbai Police Commissioner Parambir Singh, political analysts are beginning to risk the political career of Maharashtra Home Minister Anil Deshmukh.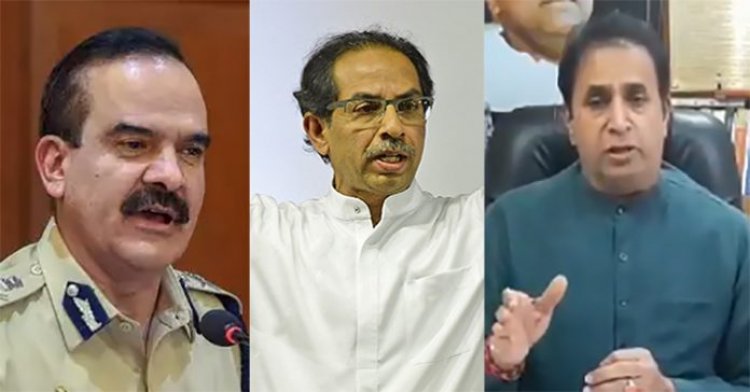 Parambir Singh has written a letter to the Chief Minister alleging that Home Minister Anil Deshmukh had given a target of extortion of hundred crores of rupees every month to the top police officers.Anil Deshmukh, 70, is one of the few leaders of Maharashtra politics who has succeeded in making his place in the government of every party.Deshmukh has been a minister since 1995, barring the five-year tenure of the previous BJP government led by Devendra Fadnavis.
In 1999, when Sharad Pawar broke away from the Congress and formed the Nationalist Congress Party, Anil Deshmukh also joined the party along with many big leaders of Maharashtra.In 1999, he won the elections for NCP tickets once again. After winning for the third time in 2004, he scored a hat trick of victory.
Anil Deshmukh has been a minister in every government of Maharashtra since 1995, except for the BJP-Shiv Sena government between 2014-2019. He has also handled school education, PWD, Excise Department and Ministry of Home Affairs.
Many decisions of Anil Deshmukh were discussed. He decided to broadcast the national anthem in theaters. He also banned eating gutkha in Maharashtra.
In addition to former Mumbai commissioner Parambir Singh, Maharashtra's most senior police officer Sanjay Pandey also expressed his displeasure by writing a letter to Anil Deshmukh and Uddhav Thackeray.
Pandey alleged that he was being ignored in the matter of being given the post. He wrote in his letter that by this time he should have been the police chief of the state but this did not happen.
However, this is not the first time that a senior officer has targeted Deshmukh. In April 2020, Anand Kulkarni, chairman of Maharashtra Electricity Regulatory Commission, also wrote a post against Deshmukh, posting on social media.In his post, he claimed that he has done homework on Deshmukh's previous works and he will make public the information collected at the right time.
Anil Deshmukh was also in the discussion with his statements. When TV anchor Arnab Goswami was clinging to the death of Goa architect Anvay Naik, he had said in the assembly that former Chief Minister Devendra Fadnavis had suppressed the case during his tenure.
Anil Deshmukh transferred ten DCP rank officers after assuming the post of Home Minister. According to local media reports, he did not consult the state Chief Minister Uddhav Thackeray before transferring it. Uddhav Thackeray also stopped these transfers for this reason. Since this incident, Anil Deshmukh has remained in the headlines in the media of Maharashtra.When Maharashtra was engulfed in the corona epidemic, Anil Deshmukh advised the policemen to apply oil in their sticks. There was a lot of controversy on this statement too.