Valvoline presents 'Happiness Truck'; Keeping The World Moving and Smiling One of its kind initiative to spread awareness and empower mechanics across the country.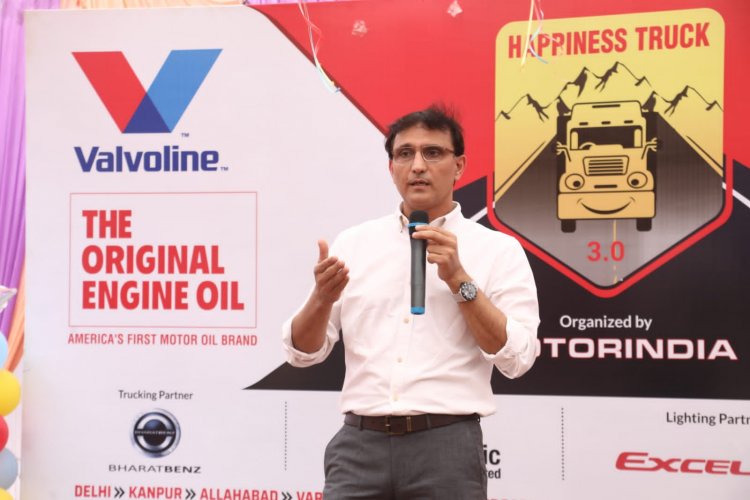 Mr. Sandeep Kalia
Valvoline Cummins Private Limited ("Valvoline Cummins"), the Original Engine Oil maker and a leading global lubricant manufacturer, flagged off its 'Happiness Truck' an initiative which began its all-India tour for next 40-45 days covering the Golden quadrilateral- 26 locations across the country, spreading happiness among mechanics, Channel partners, and fleet owners along the way.
The 'Happiness Truck' was flagged off from Sanjay Gandhi Transport Nagar in Delhi with full celebration. The objective of Happiness Truck is to reach out and connect with mechanics, Fleet owners, and other service providers and involve them by empowering and educating them on the latest technologies. Besides this, at every pit stop there will be an engagement program and light entertainment along with educational sessions.
Speaking on the association, Mr. Sandeep Kalia, Managing Director, Valvoline said "At Valvoline, we believe in appreciating and empowering all our mechanic partners & engaging our fleet operators. The 'Happiness Truck' also follows the same philosophy of empowering and spreading happiness wherever it goes. This initiative will help us reach mechanic community across the country and create awareness about the ever-evolving automotive industry."
Adding to this, he said, "Mechanics have always played a key role in keeping the world moving forward. Valvoline merits its growth to our mechanic community for which we are very grateful. Through this initiative, we will reach out to mechanic communities and give back to them by upskilling them and making them aware of various benefit programs. We want to ensure the well-being of our mechanics by supporting them in every way possible".
This is the initiative of Motor India, where in 'Happiness Truck' will be crossing the cities of Kanpur, Allahabad, Banaras, Dhanbad, Durgapur, Kolkata, Vizag, Vijayawada, Bangalore, Bijapur, Belgaum, Pune, Mumbai, Surat, Ahmedabad, Ajmer, Jaipur Gurgaon and more, covering a total of 26 locations across the country. Started by Motor India, the Happiness Truck initiative has been taking place since the last two years
About ValvolineTM
In India, Valvoline Cummins Private Limited is a 50:50 joint venture between Valvoline International Inc. U.S.A and Cummins India Ltd.; India's leading manufacturer of diesel engines and the largest exporter of engineering products – has resulted in Valvoline Cummins Private Limited, that is engaged in the production, distribution and marketing of lubricants, grease and other allied products. To know more, Visit www.valvoline.com/en-india ™ Trademark, Valvoline or its subsidiaries, registered in various countries.