Members of Pakistani Hindus community take out protest march against forced conversion, demand to pass bill
Several people from the minority Hindu community in Pakistan's Karachi city took out a protest march on Thursday to draw attention to the problem of forced conversions and marriages of Hindu girls and women in the country.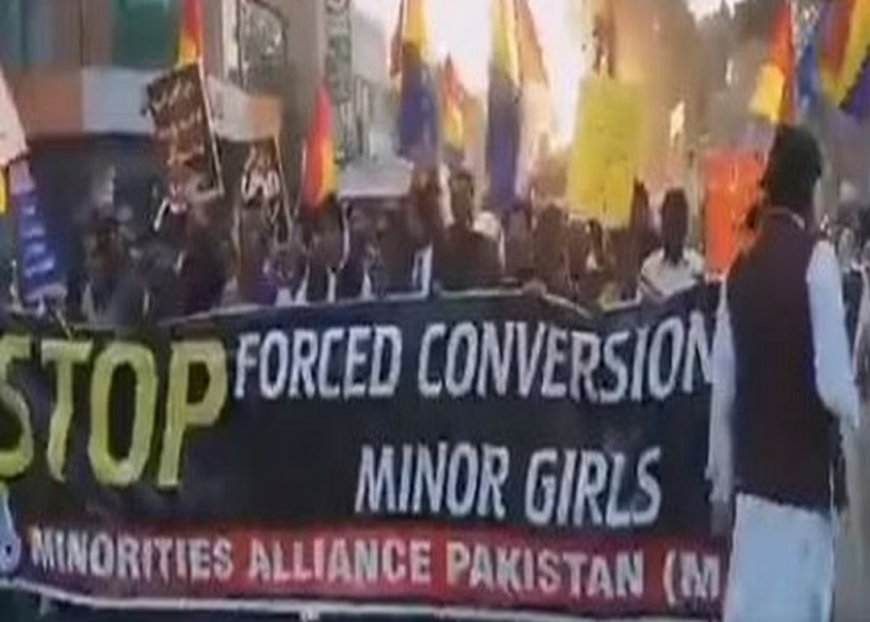 Minority communities are targeted in Pakistan. There girls and women of Hindu community are forcibly converted and married. But no concrete steps are taken even after complaining.
At the same time, many people of the minority Hindu community in Karachi city on Thursday took out a protest march to draw attention to the problem of forced conversion and marriage of Hindu girls and women in the country.
PDI protests against forced conversions
According to reports, the protest was organized by the Hindu organization Pakistan Darawar Ittehad (PDI) outside the Karachi Press Club and the entrance of the Sindh Legislative Assembly.
A PDI member said, "We want to solve this big problem being faced by the Hindus in Sindh" That's why we have taken out a protest march against forced conversions. In Pakistan, minorities are shown brutality.
Marriage is forcibly converted
Girls as young as 12 and 13 are abducted in broad daylight, especially in rural areas of Pakistan.
After this they are forced to convert to Islam and then married to an older Muslim man.
A PDI member said Thursday's protest had some impact because many people were not even aware of the crime.
Although he was expecting more people to gather. He also said that the protest was peaceful and that a large number of policemen stood at a distance from the protesters.
The protesters were demanding the government to pass the pending bill against forced conversion of Hindu women.
Murder of hindu doctor
Minority communities in Pakistan are kept on the radar. Last day, a Hindu doctor was targeted for target killing in Karachi, Pakistan.
Dr Birbal Jenani, a former health and ophthalmologist of the Karachi Metropolitan Corporation (KMC), was shot dead by unidentified assailants in Karachi on Thursday.
According to the police, Dr. Birbal Jenani and his female assistant were going from Dr. Ramaswami towards Gulshan-e-Iqbal.
Meanwhile, his car was targeted by unknown people near Garden Interchange on Lyari Expressway. The assistant female doctor has also been injured in this incident.