Culprit 'Deep Sidhu' arrested for Red Fort violence.
Deep Sidhu, the main reason of violence in the Red Fort, has finally been arrested by the Special Cell of Delhi Police. He was releasing his video messages via Facebook.
Highlights:
On 26 January, there was a disturbance in many places in Delhi including the Red Fort.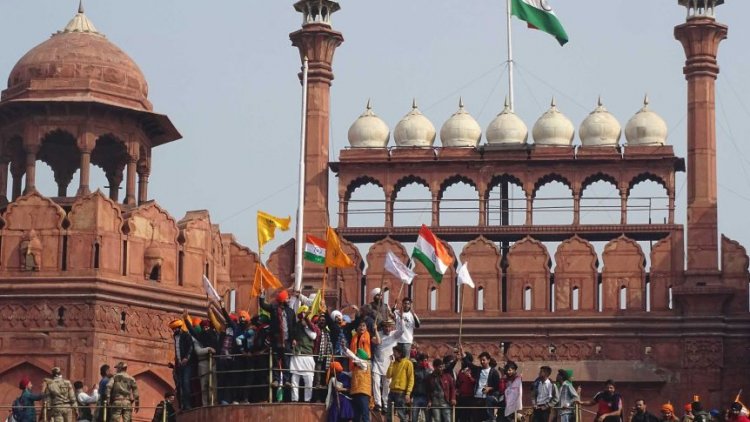 Farmers had organized a tractor rally, at the same time violence waved through the place.
Deep Sidhu suspected of being mastermind of uproar in Red Fort.
Delhi Police was in search since then, found videos on facebook uploaded by Deep.
Punjabi actor Deep Sidhu defends Red Fort incident-
New Delhi:
Deep Sidhu, the main accused of the nuisance at Red Fort, has been arrested on 26 January. The Delhi Police's Special Cell has arrested him. He is accused of hoisting the flag in the ramparts of the Red Fort during a farmers' tractor rally. Deep Sidhu was absconding since the incident. Delhi Police had also placed a reward of one lakh rupees on Sidhu. Despite being absconding, Sidhu was continuously releasing video messages through Facebook. Delhi Police had recently claimed that he was putting videos on social media through a close friend of his.
Quoting sources in Delhi Police, news agency ANI has written that Sidhu's female friend lives in California. Deep Sidhu used to make videos and send them to the woman and she would upload them from Sidhu's Facebook account.
Deep Sidhu tried to prove himself innocent-
Teams of Delhi Police were raiding many places in Punjab in search of Deep Sidhu, an actor of Punjabi films. He was uploading videos on his Facebook in which talking in Punjabi, he described himself as innocent. In one video, he said that "leaving my whole life behind, I came to support the Punjabis' protest. Nobody saw anything, but I was made a traitor." Born in 1984 in Muktsar district of Punjab, Sidhu is associated with the protest against three controversial agricultural laws. His first Punjabi film 'Ramta Jogi' was released in 2015. His second film 'Zora Das Numberia' was a hit in 2018.
Police is looking for people involved in violence-
Last week, the police had announced a cash reward of Rs one lakh to those giving information about Deep Sidhu, Jugraj Singh, Gurjot Singh and Gurjant Singh. The police has announced a cash prize of Rs 50,000 for those giving information about Jajbir Singh, Buta Singh, Sukhdev Singh and Iqbal Singh. Police arrested Sukhdev Singh from Chandigarh two days ago. After his arrest, the total number of arrests in the Republic Day violence has now reached 127. Earlier, police arrested three people identified as Harpreet Singh (32), Harjit Singh (48) and Dharmendra Singh (55) in connection with the Delhi violence. Based on CCTV footage and mobile recording, police is now tracing the other accused involved in the violence.