Farmers Protest released, agreement on 2 out of 4 key issues in sixth round meeting now next meeting on 4th January
The farmers' protest against agricultural laws will continue in a peaceful manner till the next meeting. A sixth round of meetings was held on Wednesday between farmer organizations. In this, two out of four issues have been agreed. The next meeting between the farmer and the government will be held on 4 January.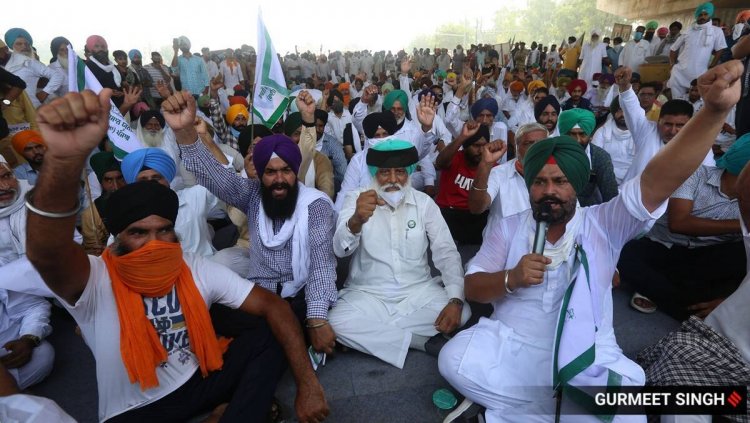 The sit-in of the farmers, who have been sitting on the dharna for more than a month, against agricultural laws, is still going on. According to a tweet by the news agency ANI, the youth are going towards Delhi by bike in support of the farmers who are protesting against the agricultural laws. A youth told, we are going to support and encourage the farmers on the Singhu border of Delhi. We want to tell them that they are not alone there, we are with them. Apart from this, a man from Lakhimpur Kheri has started a temporary mall to provide the necessary goods to the farmers who are protesting against the agricultural laws near Ghazipur border. He told that we are providing the farmers with all the things they need.
There were 4 topics on the agenda, 2 of which were agreed.
However, talks were held between the farmers' unions and the central government on Wednesday. This conversation is considered to be largely positive. Balwinder Singh, president of Majha Kisan Sangharsh Committee, Punjab, said that the meeting was held in a very good atmosphere. The central government has accepted 2 demands. Our 2 subjects are left. MSP and 3 Agricultural Laws. There will be talk on both these topics on January 4 at 2 pm. At the same time, Balkaran Singh Brar of All India Kisan Sabha Punjab said that the government has withdrawn the proposed electricity bill. In the case of Parali, the government had issued an ordinance, it has also been withdrawn.
There will be talk between the farmer and the government again on January 4.
On the other hand, yesterday, Union Agriculture Minister Narendra Singh Tomar told media persons after a meeting with the farmer leaders that today's conversation took place in a very good environment and concluded on positive comments. There were 4 topics on the agenda, 2 of which have been agreed. This created a good atmosphere on both sides. Farmers unions have been talking about withdrawal of 3 laws. We have tried to show that where there is a problem, the government is ready to consider it. The discussion on the subject of law and about MSP is not complete, the discussion continues. We will gather again on 4 January 2021 and take this discussion forward.