Twitter Blue: Paid verification service may start in India in a month, Musk said while replying to the user
Twitter Blue Twitter's paid verification service ie Twitter Blue can start in India in a month. The social media company has currently started this service in America, Canada, New Zealand, Australia and the UK.
After the acquisition of Twitter, the new bass Elon Musk has announced to pay the blue tick ie verification service (Twitter Blue) given by the giant social media company, after which this service can be paid in India within a month. Is. Musk himself has confirmed this in response to a question asked by an Indian user.
Let me tell you, a verified user named Prabhu tagged Musk and wrote that when Twitter Blue can start in India. Responding to this, Musk said that in less than a month.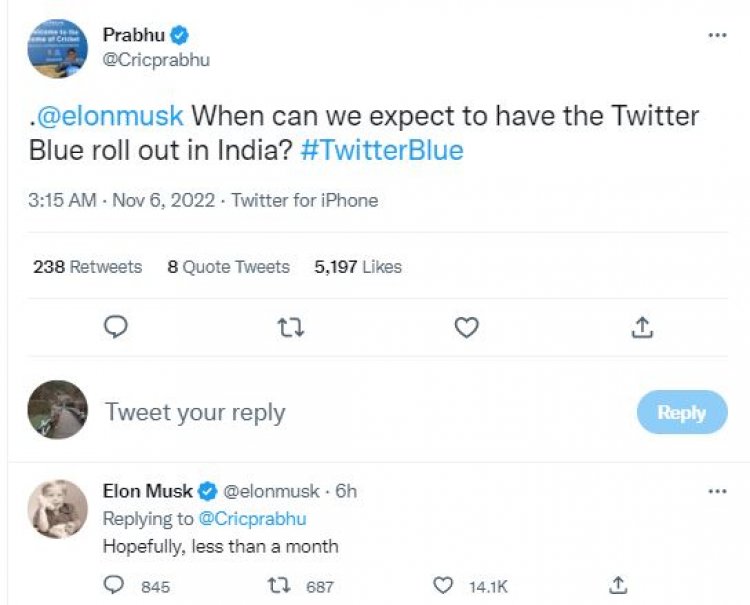 Twitter Blue started in these countries
Twitter has launched paid verification service i.e. Twitter Blue in the US, Canada, New Zealand, Australia and the UK. Now Twitter users in these countries will have to pay $ 8 (about Rs 670) every month to keep their account verified.
Purchasing Power will determine Twitter Blue price
While announcing the payment of Twitter's verification service, Musk had said that the price of this service will be decided according to the 'purchasing power parity' of the countries. However, how will the price be decided according to the purchasing power. No information has been given about this.
Musk going to make big changes in Twitter
After buying Twitter for $44 billion, Musk is working on a plan for major changes to the company. Musk plans to increase the word limit on Twitter and add an edit feature. Along with this, the matter of content monetization has been said by Musk. At the same time, on Twitter, we may also get to see longer videos in the coming times. In such a situation, we can see big changes in Twitter in the coming time.