Fact check: Ranbir Kapoor angrily throws away a fan's phone? here's the truth
There is no dearth of fans for actor Ranbir Kapoor. Wherever the actor goes, there is a crowd of fans. Everyone tries to get a photo with Ranbir. Ranbir also meets his fans with great love. But, Recently a video is going viral on social media where Ranbir kapoor is throwing away a fan's phone.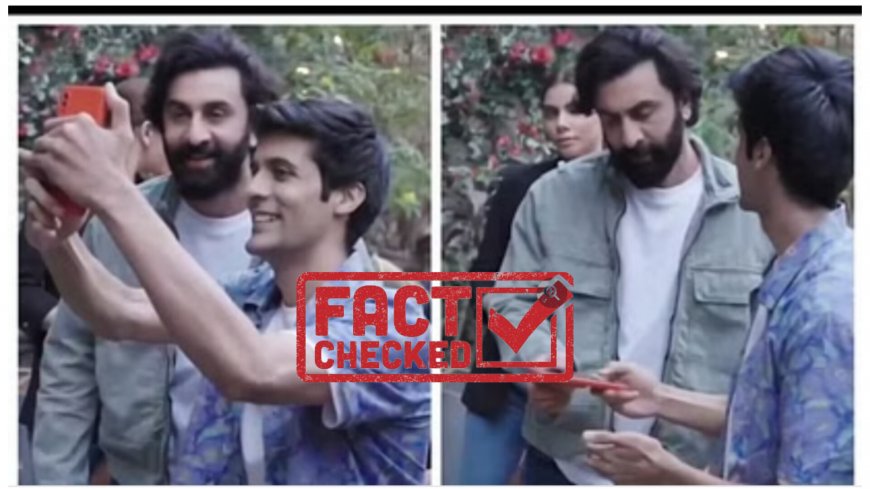 A video is going viral on social media in a tremendous way where A fan of Ranbir kapoor is trying to take a selfie with him, but Ranbir Kapoor angrily throws away his phone Although, what is the truth behind this video hasn't revealed yet, but netizens seem to be giving very interesting reactions to it.
The viral video has been shared from the Instagram page of 'Viral Bhayani'. It can be seen that a fan takes a selfie with Ranbir and Ranbir is also seen posing happily but After this the user takes a selfie again and Ranbir takes his mobile from the fan's hand and throws it backwards. During this, anger can be clearly seen on Ranbir's face. Users are surprised to see Ranbir behaving like this.
What is the truth of this video of Ranbir Kapoor?
it is yet to be known. At the moment some users are claiming that this is an ad video. Its next part is yet to come. At the same time, some users are seen getting angry. Users are calling it rude, Another user wrote, 'Maybe Ranbir wants to get a nice phone.' One user wrote, 'What happened after all this?' Some users are saying that 'Ranbir must have been upset. That's why he did it.
View this post on Instagram
Talking about Ranbir Kapoor's work front, he will soon be seen in 'Tu Jhoothi ​​Main Makkar' alongside Shraddha Kapoor. The trailer of this film has been released recently. Let us tell you that this film is full of romantic-comedy. Shraddha Kapoor and Ranbir Kapoor will be seen romancing for the first time through I'm this film. Ranbir Kapoor is all set to return to the big screen after a long time with a romance-comedy film. This film will be released on 8 March 2023 on the occasion of Holi.