Ganesh Chaturthi 2023: Anushka Sharma started preparations to welcome Bappa, showed a glimpse to fans
Ganesh Chaturthi 2023 Ganesh Chaturthi has arrived. In such a situation, everyone is becoming eager to celebrate this festival. Many celebs have even welcomed Bappa's arrival at their homes. Now actress Anushka Sharma is also preparing to bring Ganpati to her home. He has also shown a glimpse of this to his fans.
Ganesh Chaturthi 2023: The festival of Ganesh Chaturthi is almost here. From the common man to the stars of small and big screen, everyone is seen colored in the colors of the festival at this time. Many celebs have even welcomed Bappa. Now actress Anushka Sharma is also preparing to welcome Bappa. He has also shared a glimpse of this preparation with his fans.
Anushka Sharma is preparing for Ganesh Chaturthi
Actress Anushka Sharma has shared a picture in the story of her social media handle Instagram today i.e. on 18th September. In this picture she is seen taking a mirror selfie inside the gym. While taking the picture, the actress also made the victory sign. It can be seen in the picture how the gym area of the actress is full of furniture.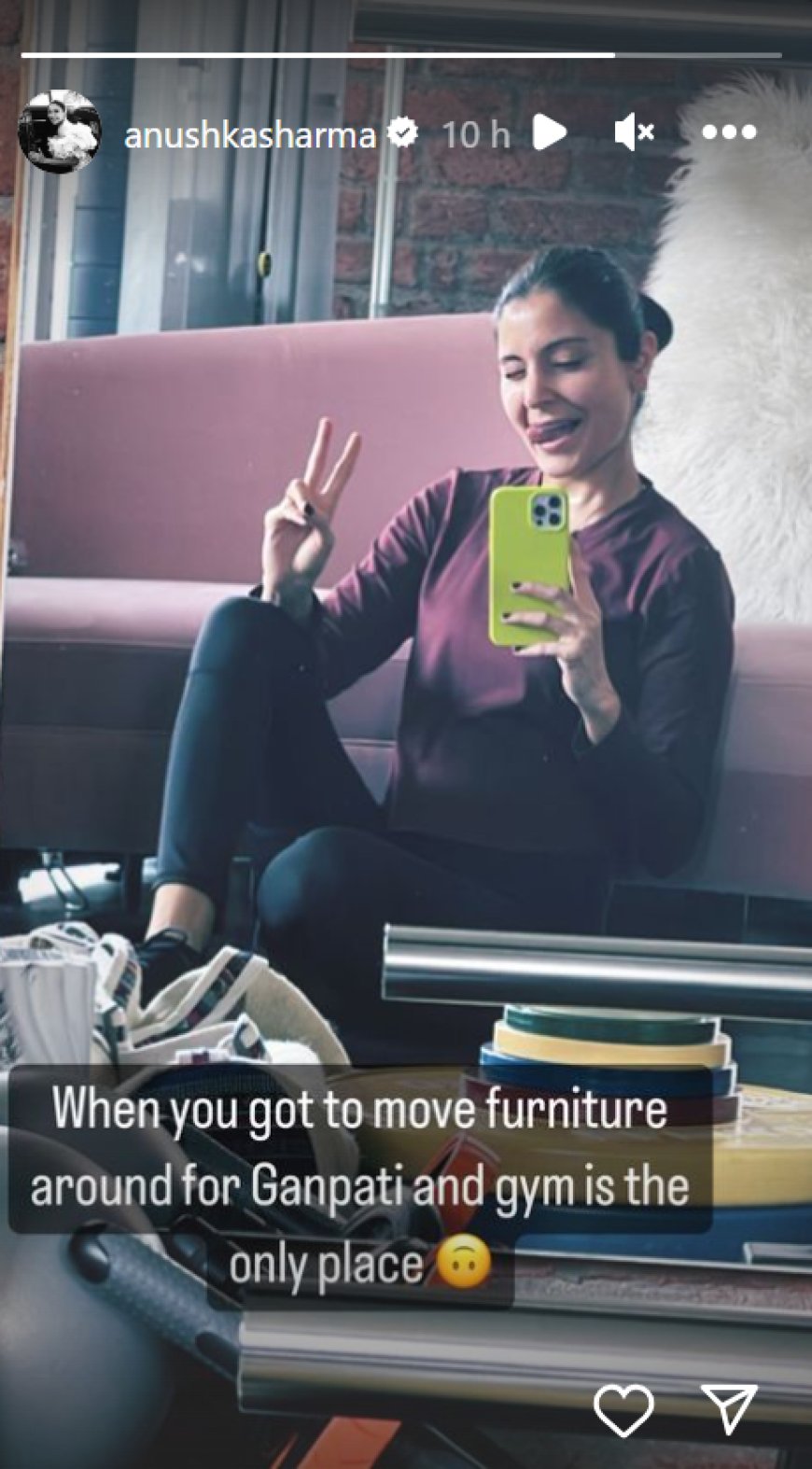 While sharing this picture, Anushka wrote, 'When you have to move furniture here and there for Ganpati and gym is the only place'. In such a situation, it is clear that the actress is preparing to bring Bappa to her house. In this picture, Anushka's look also looks like a gym one. The actress is wearing a maroon T-shirt and black gym pants.
Returned to Mumbai after India's victory
Actor Anushka Sharma and her husband Virat Kohli recently returned to Mumbai after winning the Asia Cup. This year he is going to celebrate the festival of Ganesh Chaturthi with his wife and daughter Vamika. The actress had also congratulated Team India for the victory by sharing the story on Instagram yesterday. He also praised bowler Mohammad Siraj.
Anushka will be seen in these films
Soon the actress will be seen in her upcoming film 'Chakda Express'. In this film, she will be seen playing the role of famous Indian bowler Jhulan Goswami. Earlier he was seen playing a cameo role in Babil Khan and Trupti Dimri starrer film 'Kaala'.