Giriraj lashed out at Rahul and opposition for supporting Disha Ravi, said - started opposing the country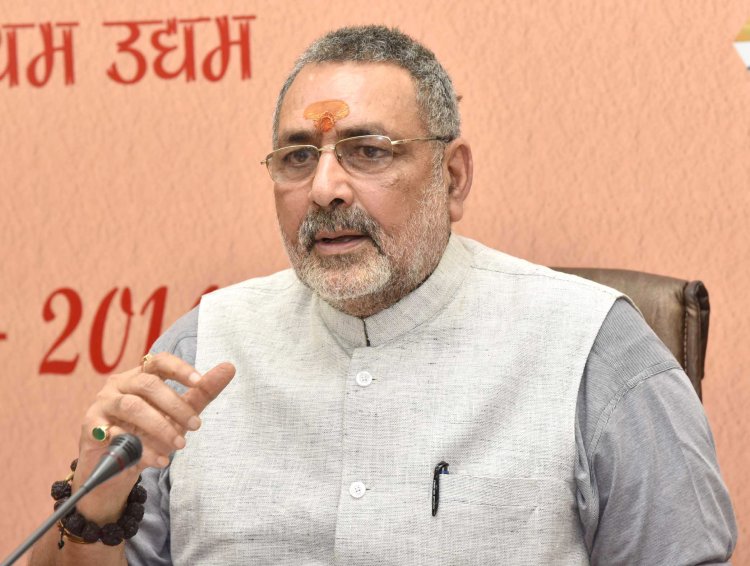 Union minister Giriraj Singh has targeted Congress leader Rahul Gandhi and the opposition for supporting climate activist Disha Ravi arrested in the Greta Thanberg toolkit case. Talking to news agency ANI, Giriraj Singh said that opposition parties have started opposing both the country and Prime Minister Narendra Modi. He said, 'I want to ask Rahul Gandhi and the opposition whether they will decide the law? If they are in support of Disha, because she is 21 years old, then they should tell whether we should have punished Nirbhaya convict or not. Shouldn't Pakistani terrorist Kasab be sentenced to death because of his age?
Giriraj Singh further said that who made a blueprint to discredit India at the world level. Do you call them patriots? Rahul Gandhi and the opposition will have to answer. He has started opposing the country, targeting the Prime Minister. They are requested not to oppose the country. He also accused the opposition of misleading farmers. He said that the opposition misled the farmers. Some Congress leaders in Haryana are saying that they will distribute liquor. This is not a farmers' movement.
Ram temple donation campaign retaliated by Kumaraswamy's comment
Asked about former Karnataka Chief Minister HD Kumaraswamy's remarks on the Ram Mandir donation drive, Giriraj Singh said it was a conspiracy by the opposition and Kumaraswamy to discredit the Ram devotees. It is absolutely wrong that Ram devotees are identifying those who are not giving donations. The Janata Dal (S) leader had said that the volunteers collecting funds for the construction of the Ram temple are marking the houses that are not donating.