'Put the BJP flag on your chest'.....Rahul Gandhi insults journalist day after the disqualification from Lok Sabha
Rahul Gandhi News: During his press conference, former Congress President Rahul Gandhi became uncomfortable on the question of a journalist and in response told him not to pretend to be a press man.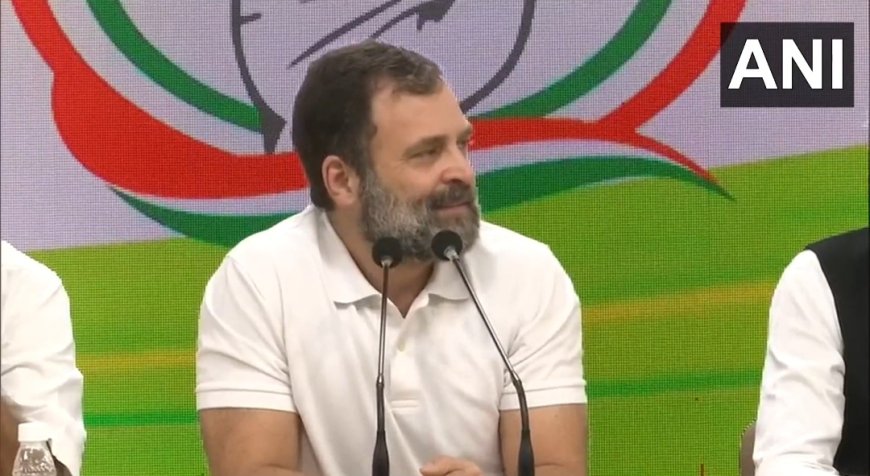 Rahul Gandhi: When Congress leader Rahul Gandhi appeared for the first time on Saturday (March 25) to answer questions from the media after the cancellation of his Parliament membership, he got angry at a journalist. The journalist asked him a question about the OBC issue being raised by the BJP. In fact, the BJP has accused Rahul Gandhi of insulting the OBC community. When the journalist asked the question, Rahul Gandhi accused him of working for the BJP and said that don't pretend to be a press man.
Video of Rahul Gandhi :-
#WATCH | "Don't pretend to be a pressman...Kyun hawa nikal gayi?", says Congress leader Rahul Gandhi to a journalist questioning him on his conviction in 'Modi surname' case pic.twitter.com/SdaaUeraoy — ANI (@ANI) March 25, 2023
What did Rahul Gandhi say to the journalist?
The journalist asked Rahul Gandhi, "The decision of the court has come, the BJP has said that you have insulted the OBC community." The BJP is holding press conferences across the country saying that you have insulted the OBC community.
Let us tell you that on Friday (March 24), the Lok Sabha Secretariat had issued a notification regarding the cancellation of Rahul Gandhi's membership of Parliament. Rahul Gandhi's membership of Parliament has been canceled after being sentenced in a 2019 defamation case by the Surat court in Gujarat. The court on Thursday (23 March) sentenced Rahul Gandhi to two years imprisonment in a defamation case related to Modi surname.