Rohit Sharma seems hilariously confused after winning the toss in 2nd ODI, took 20 seconds to take decision: VIDEO
India vs New Zealand: Rohit Sharma could not take a decision for 20 seconds during the second ODI toss between India and New Zealand. This has happened for the first time in international cricket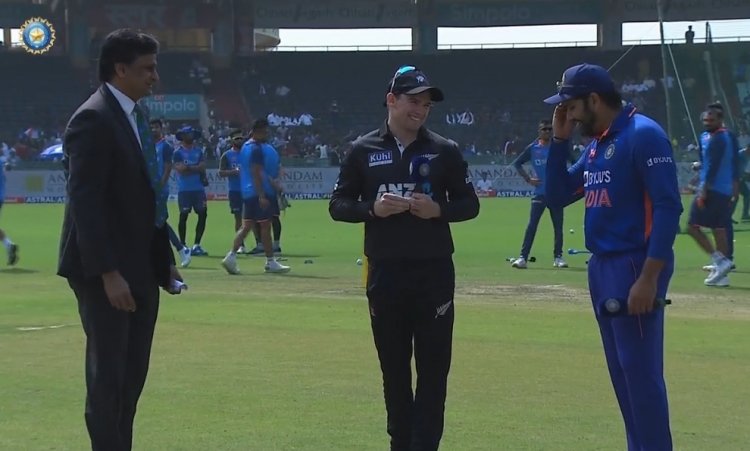 India vs New Zealand 2nd ODI:The second match of the three ODI series between India and New Zealand is being held in Raipur. The toss has been done for this match. Indian captain Rohit Sharma won the toss and decided to bowl. But a funny incident happened during the toss. Who caught everyone's attention. In fact, after the toss, Rohit Sharma kept thinking for 20 seconds as to what decision he had to take.
This is the first time in international cricket that a captain has taken 20 seconds to give his decision. Usually it is seen that as soon as the coin of the toss falls on the ground, the captain immediately tells his decision. But after the toss of the second match, Rohit Sharma kept thinking for 20 seconds.
???? Toss Update ????#TeamIndia win the toss and elect to field first in the second #INDvNZ ODI.

Follow the match ▶️ https://t.co/V5v4ZINCCL @mastercardindia pic.twitter.com/YBw3zLgPnv — BCCI (@BCCI) January 21, 2023
Rohit sharma seems confused after winning the toss
Actually the captain and the team management decide beforehand what decision to take after winning the toss? Because those people guess the conditions by looking at the pitch beforehand. Before the match to be held in Raipur, the captain and the team management must have talked about what decision to take after winning the toss? But when Rohit Sharma came to the ground for the toss, he forgot to take a decision after tossing the coin.
Meanwhile, the match referee Javagal Srinath, who came to conduct the toss, Ravi Shastri, who was presenting the toss, and New Zealand captain Tom Latham kept waiting for Team India's captain Rohit Sharma's decision. Rohit insisted on his memory. After about 20 seconds, he was able to tell his decision. During this all the people present there started laughing.
Rohit has a habit of forgetting
It is a fact that Rohit Sharma has a habit of forgetting. In the past, apart from his bag, he has also been forgetting to take his passport with him. His habit of forgetting has been disclosed many times by his fellow cricketers. One such time he forgot his bag at the airport. Many players on tour remind him of carrying many things with him.
Perhaps this must have been the reason that he forgot to take a decision at the time of the toss. International match for the first time International match is being organized for the first time at Shaheed Veer Narayan Singh International Stadium in Raipur. Earlier, matches were played on this ground only during the domestic season. Although matches were played here during the Road Safety World Series last year as well. But for the first time the international match is being organized in Raipur.