DREAM AWARD by Priya's Wisdom Publication - Twenty Talented Awardees making it big!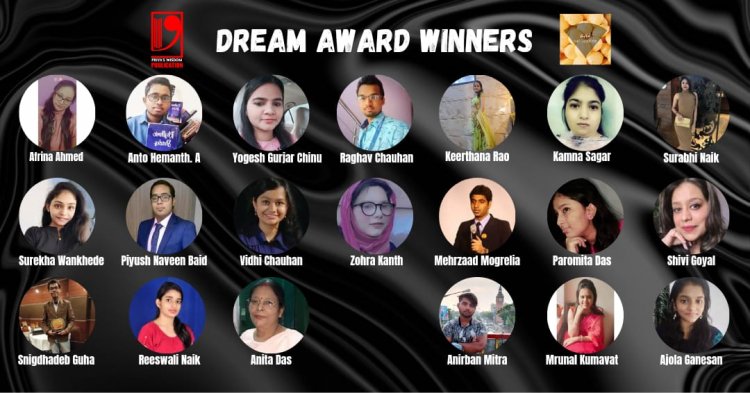 Dream Award - Fulfill your dreams!
This Award is an honor to all the Awardees who has given there best in there respective fields and got selected amongst hundreds of applicants. We truly salute & appreciate all our selected Awardees for there impeccable work.
List of Awardees -
1. AFRINA AHMED - The nominee's name is Afrina Ahmed. Afrina is a published writer and has served as the co-author and compiler of many anthologies under various publishing house.She is currently working with pages such as Penholics(as a writer and Editor) (as Writers' Head and Co-founder) of Entangled Tales, The Inked Square (as a creative writer), Profound Writers(as a creative writer) and Surprisingly Short Stories (as a writer). Afrina has won various national and international awards and competitions. She is a national and world record holding co-author as well.
2. ANTO HEMANTH. A - He is a 21 years old, doing his bachelor's degree in English literature at DR. GRD college of science, Coimbatore. He loves to write poems on love, nature, philosophy of life and contemporary issues. Not an experienced writer, he started writing last year while going through depression phase. Now within a year, he has penned an anthology of 70 poems on his own, based on his musings on traumatic past, chaotic present and dramatic future. The name of his work is RHYTHMIC SHADES.
3. YOGESH GURJAR CHINU - She is a self believer. She completed her studies till 12th Standard. After that she left her studies due to some unavoidable circumstances. She is an Award Winning Youth Achiever who is giving her best & inspiring others.
4. RAGHAV CHAUHAN - Raghav Chauhan is an Indian Author and records Holder. He was born on 06th July 1997 at a village of Distt Moradabad,UP. He has grew up in a middle class family and brought up by his parents Mr Satyapal Singh & Mrs Nisha Devi. Due to poverty, his family's background was very poor. Raghav was very mischivious in his childhood , so he was scolded by his father mostly. His father was an English teacher and his mother is a housewife. His father was give coaching to 8th class students for extra income. They were teach English very well.
5. KEERTHANA RAO - A deep thinker, a poet often engrossed in thoughts and a girl eying her goals and walking relentlessly towards it! A year ago, amidst the chaos and the lockdown bought by the deadly pandemic of corona, the leisure time unravelled the poetic intent in her and she established herself as a writer in less than a year.A N Keerthana Rao hailing from Bengaluru, India. A published co author in many amazing books and a proud contributor to prestigious magazines. A. A published co author in many amazing books and a proud contributor to prestigious magazines. She is also awarded with Best writer and rising star title from Priyas wisdom publications and The twinkling star title in literature from sparkling diamond community
6. KAMNA SAGAR - She is an Author, Ph.D. Scholar and pursuing her PhD from the Jawaharlal Nehru University, New Delhi. Her new book on "ambedkarite Buddhist community" published soon. Her research lies at the intersection of dalit diaspora, cultural, and religious critical exclusion studies in everyday life. She is also concerned about ethics and methodologies in Dalits' studies. She won 'Best Research Paper Award in (2018) at Amity University, Noida, won "Rising star awards 2021 (inspiring star of the year) by wisdom publication & many other Awards. She has been writing for journals, and many prominent websites. She is currently an Editorial Reviewer at International Journal of Environment and climate change.
7. SURABHI NAIK - She has done masters in clinical psychology and done her clinical internship at Masina hospital, Byculla and Thane mental hospital. She has also provided therapy during her internship, to schizophrenic, anxiety, addiction, depression, mood disorder and sexual abuse patients. She has also completed her internship at Joshi Bedekar college as a counsellor. She has co authored almost 20 anthology books with publishers like opus coliseum, rosewood publications, worldgenix publications and more. She is also an Award Winning Author.
8. SUREKHA WANKHEDE - Surekha Wankhede belongs to the City of Oranges, Nagpur, Maharashtra. She is persuing her graduation in B. Pharmacy course from RTMN University. She writes in every type of genre, which considering where you are reading this, makes perfect sense. She's the best known for English poetry. She started her writing journey from class 12th. Writing became everything for her. She has co-authored over 150+ anthologies and compiled 4 anthologies till now and still going on. Some of which are – Nuance Sayings, The Zaika Palace, Win Over Darkness etc. Currently she is working as Project Head and TRIDESTA Magazine Head at The Opus Coliseum Publication.
9. PIYUSH NAVEEN BAID - Piyush Naveen Baid (Jain) lives in Gujarat state if India. An interior architect by profession. He is also very passionate towards his writing skills, he writes quotes and stories in English language he is also a writer in Hindi language for poems. Who also tries to find the world of happiness by writing. Because he strongly believes that a writer is a swimmer of the oven called words, they get and collect meaningful and creative for readers. Who also believe that writers are one of the book cover of success. Who had also been a part of 15+ anthology and 10+ writing contest and also a author of his solo novel book.
10. VIDHI CHAUHAN - She has been doing drawing since she was 4 years old. She has learned different art forms such as painting, portrait making, canvas painting, tribal art, mandala art, spray painting, tavdi painting, kite painting, etc. Besides this, she also does activities like paper quilling and art and craft. She has made almost 20-25 articles out of paper quilling. She has received several Awards & Prizes and one national level scholarship till now in this field. Which includes 33 International level prizes from Japan, Turkey, Poland, Hong Kong, Iran, UK, Argentina and India.
11. ZOHRA KANTH - Hailing from Kashmir, Zohra is a literature student at 17. She has a strong emotional connect with
poetry, since quite a tender age of 7. She aims to pen-out her heart on the matters of life, death, soul and beyond. She has been writing as co-author in many anthologies and the upcoming anthologies are "Twilight" and "Buried Pangs". She has represented her institutions on state and national level. She aims to knot with the world through poetry, which she calls a "Devine art".
12. MEHRZAAD MOGRELIA - He is a multi talented Personality in every aspect & is a great inspiration for every youth. He has won many Awards like Literary Titan Gold Award for Literary Excellence presented by Literary Titan Publishing House, U.S.A., Star Icon Award 2021 for Literary Excellence presented by Suman Art Theatre, Hyderabad, Sahityakosh Sanman Award 2021 for Literary Excellence presented by Nex8 Official, Litfest 2020 Nominee for Literary Excellence presented by Nex8 Official, Best Debut Author awarded by Artistic Pen Promotions, New Delhi. He is a great inspiration for others.
13. PAROMITA DAS - She is a first year student of Bsc Biotechnology from Kolkata. She is a dancer, writer and artist. She loves to read books, drawing, sketches, mandala and craft work. In this year she has participated in many art competitions and she has secured 1st, 3rd and 4th positions also. She also like sports and in the year 2019 of TTIS Challenge she won the competition and secured 2nd position. She is a author of the book name 'Remember the roses', 'To save a mocking bird', etc., which is now available on Amazon
14. SHIVI GOYAL - She is coined as Author On Travel, and Guinness world holder or her books and her travel experiences. She is an award winning author for two books published worldwide anda couple of anthologies. A blogger by choice, digital content creator and an influencer, public speaker, life coach, solo traveller, known travel blogger/vlogger, single mother, and a HUMAN. She believes in the miracle of words and wisdom. Travel is something she enjoys and has been to many destinations solo and in the group - for the love of meeting new people and discovering new cultures. Her desire to learn about life takes her to secluded destinations and write about them. LOVE VS= WEED & WORDS UNSAID is her solo Authored book.
15. SNIGDHADEB GUHA - Snigdhadeb Guha is a Btech Third year student, Writer, Rotaractor & an Aspiring Filmmaker. He has won Three International film festival awards, India's prime icon award 2021 in writer author category, Prestigious Literary award 2021, Best New Face Male - RID 3291 (2019-20), Star of Rota Articles (2019-20).
16. REESWALI NAIK - She is a software developer by profession who loves writing. She has been writing poem since she was in class 3. Writing poem started as a school assignment for her and then it became one among her passion. Apart from writing poems she also loves dancing , sketching, crafting and reading.
17. ANITA DAS - Anita Das is 57 years old. She is a proud housewife and singer also. She has done the course of 'Hindi Kobit' also. She loves singing. She has been awarded for 'Rabindra sangeet bisharat' and 'Nojrul Sangeet diploma' by a famous singer in Rabindrasadan. She is also a singing teacher.
18. ANIRBAN MITRA - Anirban Mitra aka Anirban Editx is a World record holder, Youtuber, Freelancer, and Internet personality. At present, he is student and a popular face at present. He belongs to a Bengali Hindu Family. Anirban was born on May 31, 2004, in Kolkata, India. Anirban Mitra is a Computer Science student. The stood first in his class 10. He is studying in Himali Boarding School, Kurseong. He is tremendous computer student in his school. He started his career by opening a YouTube channel named "ANIRBAN EDITX"
19. MRUNAL KUMAVAT - Mrunal Kumavat is from chennai. She is a UI/UX designer as well as an Artistic motivational Writer.
She is passionate about writing something daily and that's completes her thirst of languages. Her journey as a writer, poetess, co-author is just unbelievable. She was not able to write poems & all, but last year one incident happened to her and her life changed. She is an accidental writer. Writing has been a true blessing for her.
20. AJOLA GANESAN - Ajola Ganesan is from Tamil Nadu. She has done her Masters in Physics. She discovered her writing skills during her 10th std and since then she writes. With Music and colors, she heals herself. She believes words can change the world. She has appeared in Unicorn Magazine, a Writer's magazine. She has been nominated twice as 'Author of the week' by Story mirror.