Good news for Amitabh Bachchan's fans, 'Jhund' release date is out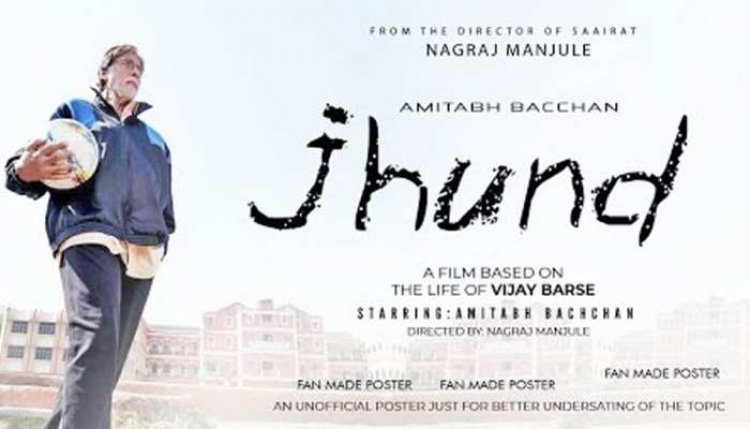 Sharing the poster of the film 'Jhund', T-Series has informed the audience that the starcast of 'Jhund' will come to meet the audience on the day of 18 June. Thus,the film is going to be released on June 18.
Mumbai:The release date of many films had to be postponed in the year 2020 due to Corona virus. Now, when everything is becoming normal gradually, new dates of releasing films are also coming out. Meanwhile, there is good news for the fans of Amitabh Bachchan. The film 'Jhund' made by director Manjunath has been decided to release in theaters on 18 June 2021 by T-Series.
Sharing the poster of the film 'Jhund', T-series has informed the audience that the film's starcast will come to meet the audience on the day of 18 June.
In the movie 'Jhund', Amitabh Bachchan plays the role of a retired sports professor who teaches slum children how to play football. From this film, the stars of 'Sairat' are Rinku Rajguru and Aakash Tomar are going to debut in Bollywood. Today the first poster of Amitabh from this upcoming film 'Jhund' has been released on the Internet. This poster has been shared by Big B himself on his Instagram.
Sharing the film's poster, Amitabh Bachchan wrote, "First glimpse of Jhund". In this poster, Big B was seen standing in front of a slum area wearing a hoodie. Amitabh is sitting with his back side faced towards the screen ,staring at a football which is also visible in the poster.

The 'Jhund' teaser begins with Big B's voice. Although the voice of Amitabh Bachchan is heard in the teaser, but he is not seen anywhere in the video.
In the video you can see that some children get into a herd in the middle of the slum area. Children are seen moving forward with chains, bat-balls, wickets and brick stones in their hands. The background plays a very brilliant and vibrant song, which is the title track of the film. The new release date of the film has also been revealed at the end of the Teaser.