ICC T20 World Cup Semi-final: Mitchell, Neesham Blasts New Zealand into Finals
Unfortunately, Martin Guptill fails to stay long on the pitch and didn't get a chance to fire his magnificent blows. He had to march back to the pavilion soon by scoring 4 runs in just 3 balls. Even the exuberant captain, Kane Williamson, fails to open up his bat and play phenomenal strokes.
Watching, the two supporting pillars of the team crumbling down under pressure fretted fans and the level of disappointment did rise among them. But New Zealand's cricket is not all about Guptill and Williamson, players like Mitchell, Conway, and Neesham did their spell and seized victory by turning the tables.
With Daryl Mitchell's astounding performance (72 runs, 47 balls, 4X4, 4X6), Devon Conway's calculated assault (46 runs, 38 balls, 5X4, 1X6), and James Neesham's massive blows (27 runs, 11 balls, 1X4, 3X6) made New Zealand invincible last night and took a five-wicket win against England in the first semi-final of the ICC T20 World Cup at the Zayed Cricket Stadium on Wednesday.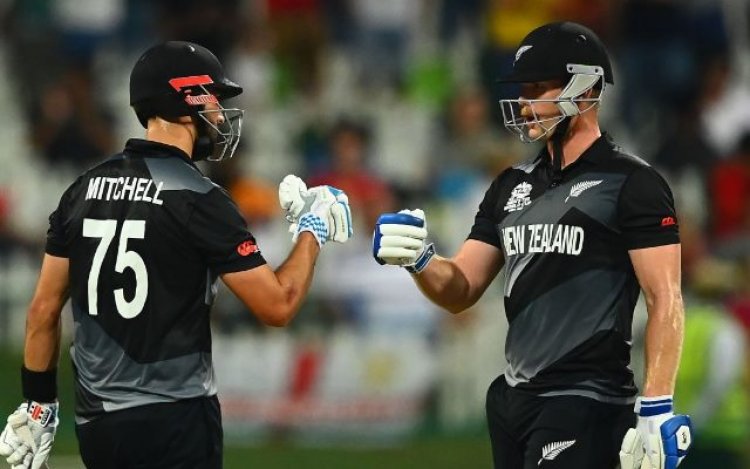 This helped Kiwis to hold their heads up high by avenging their defeats against the Three Lions in the ODI World Cup 2019 final and the 2016 T20 World Cup semi-final. New Zealand had an awful start while chasing a target of 167 and was down to 13 for two. Mark Wood's pace and Adil Rashid's leg-spin were challenging for Mitchell and he could be seen struggling to find his rhythm against them.
But all thanks to Conway who brought back his team in the game with his massive blows with an 82-run partnership for the third wicket. Unfortunately, Conway was sent back to the pavilion in the 14th over but he splendidly did his job for what he is known for.
James Neesham Showered Magnificent Sixes in T20 World Cup Semi-Final
With 57 required off 24 balls, Neesham did an all-out attack in Chris Jordan's over by hitting two huge sixes. The tables turned in the 17th over as 23 came off and exhilaration could be seen on Kiwi's face because they were biting their nails earlier.
In the next over, the left-handed batsman bashed Rashid by hitting another six before getting out in his over. But, Neesham did his job very well as he had brought down the target to 20 off 12 balls. The unstoppable Mitchell tossed Chris Woakes around the park as the opener showered massive sixes off successive balls.
He sealed the match with a beautiful four off the final ball of the 19th over. According to the experts, it was a great decision by New Zealand to elect to ball first as they successfully dominated the pitch in terms of both bowling and batting.
New Zealand put a solid performance by restricting England to 166 for four wickets and bagged a phenomenal victory. However, Moeen Ali (51 runs, 37 balls, 3X4, 2X6) and Dawid Malan (41 runs, 30 balls, 4X4, 1X6) registered 63-runs on the board for the third wicket. Still, Kiwis had things under control.
Moeen was sent at the batting order no. 4 after Buttler's dismissal in the ninth over. Eoin Morgan had different plans, that is why Moeen was promoted in the batting order. Being a left-handed batsman, Moeen was sent to counter the spin duo of Ish Sodhi and Mitchell Santner. This forced Williamson to alter his strategy.