Jharkhand CM Hemant Soren's stern warning to Modi government... will put a lock on Jharkhand's coal-minerals
Jharkhand Latest News Jharkhand Chief Minister Hemant Soren has made serious allegations against Coal India of not paying Jharkhand's Rs 1.36 lakh crore dues and said that if this amount is not received, then Jharkhand's coal-mineral will be barricaded and locked.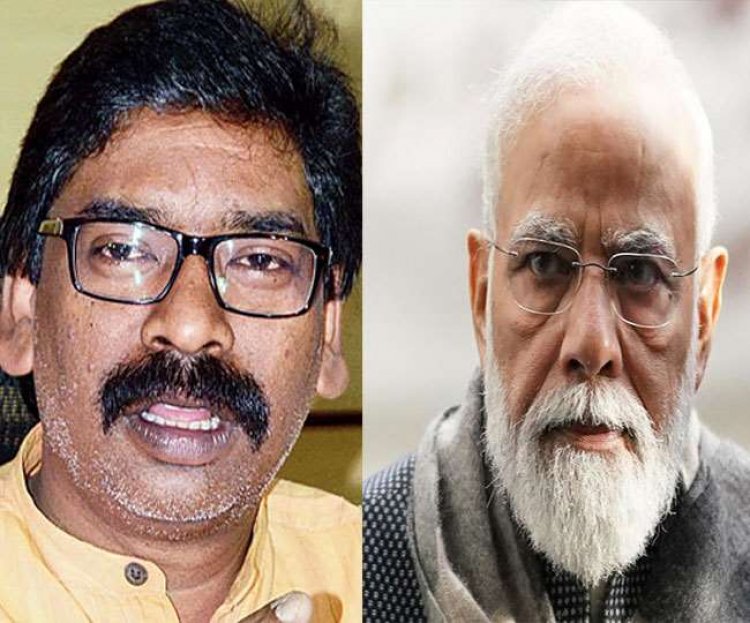 Narendra Modi Vs Hemant Soren Jharkhand Chief Minister Hemant Soren has targeted the Modi government at the Center. He said that Jharkhand owes Rs 1.36 lakh crore to Coal India. It is the right of the state and they will have it. CM Hemant also warned that if this amount is not received, then barricading and locking will be done on coal-mineral in the state. He raised the question that he had sent a proposal to include Ho, Mundari, Kurukh in the Eighth Schedule to the Center, had sent a proposal for Sarna Dharma Code, what happened to him?
#WATCH | Jharkhand Chief Minister Hemant Soren on Friday said, "We have demanded payment of Rs 1.36 lakh crore (dues) to the state from the coal companies, and we will take it, this is State's right otherwise we will put barricades around coal mineral resources." (25.03) pic.twitter.com/HtemOtjXD1 — ANI (@ANI) March 26, 2022
BJP away from the reality of Jharkhand
Chief Minister Hemant Soren said that BJP leaders say that the Chief Minister does not need to focus on pension, ration etc. Laughs at his ideological dwarfism. It shows how far they are from the reality of Jharkhand. Today, the government has to give one thousand rupees pension to the poor, dhoti-sari for ten rupees, one rupee a kg of food grains, so the people of the opposition are responsible for this.
CM Hemant Soren said that despite enjoying power, BJP did nothing for the poor. The previous government did not make arrangements for women's empowerment, but for the capitalists, there was a provision of registration of property worth 50 lakhs in one rupee. Our priority is not people with assets of 50 lakhs but 25 thousand women selling bones. Bringing them into the mainstream is women empowerment.
Poverty, feticide and child marriage will increase due to inflation
The Chief Minister blamed the Center for the rise in inflation. He also expressed concern that this would increase the evil practices like poverty, feticide, child marriage. Said, earlier even those earning 15-20 thousand used to fulfill their dream of teaching their children, now they have to worry about their stomach. Said that tribals and Dalits will come in the grip of inflation the most.