UP ATS arrested 3 more Al Qaeda terrorists from Lucknow, were involved in the conspiracy of the blasts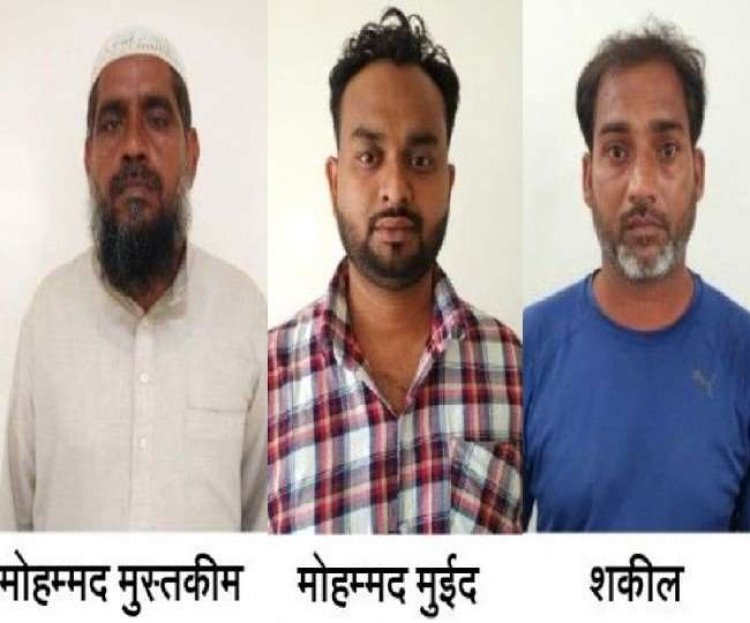 The Uttar Pradesh Anti-Terrorist Squad (UP ATS) made three more arrests on Wednesday after the arrest of two terrorists Minhaj Ahmed and Maseeruddin alias Musheer of the Al Qaeda-backed Ansar Gajwatul Hind module from the capital Lucknow on Sunday. The active role of the three has come to the fore in the conspiracy to provide pistol to terrorist Minhaj and terrorize Uttar Pradesh. During the interrogation of both, the names of Shakeel, Mohammad Mustakin and Mohammad Mayeed, residents of Lucknow, came to the fore during the police remand. They were taken into custody and called to the ATS headquarters for questioning. During this, all three accepted that they were also involved in the terrorist conspiracy. After this, all three were arrested by the ATS.
After nabbing two terrorists Minhaj Ahmed and Masiruddin from Lucknow on Sunday, ATS has also arrested three of their associates Shakeel, Mohammad Mustakin and Mohammad Mayeed from Khanau itself. Shakeel is a resident of Bansmandi area of ​​Lucknow. Mohammad Mayeed is a resident of New Haiderganj Campal Road in Lucknow itself. On the other hand, Mohammad Mustakin is originally from Muzaffarnagar and is living in Maday Ganj located on Sitapur Road in Lucknow. ATS Shakeel was being searched earlier. He is a nominated accused in the case registered against the terrorists on July 11 at the Lucknow police station of ATS. Raids have been conducted at several places in search of other helpers of Minhaj.
The investigation so far has revealed that the main conspirator is Minhaj. Staying in Lucknow, he was busy expanding the Ansar Gajwatul Hind module. Security agencies are taking extra vigil in view of these activities ahead of the arrival of Prime Minister Narendra Modi in Varanasi on Thursday. Instructions have been given to keep a close watch on every suspect.
ADG Law and Order Prashant Kumar says that Shakeel, resident of Bansmandi located in Wazirganj police station area of ​​Lucknow, Muhammad Mustakim resident of Takia Taranshah Madayganj on Sitapur Road and Muhammad Mueed, resident of New Haiderganj Campwal Road have been arrested. Originally a resident of village Mandi in Muzaffarnagar, Mustakim works on a contract and has been living in Lucknow for about ten years.
Mustakim first came in contact with Masiruddin and then was introduced to Minhaj. Mustakim had also taken a contract to build Masiruddin's brother's house about four months ago. Meanwhile, Minhaj had talked about buying a gun from Mustakim. Mustakim had provided the pistol to Minhaj through Muid, a construction material supplier. Shakeel was living in Saif Ahmed's house in Bansmandi. His house is on Janta Nagri, Jagat Narayan Road in Wazirganj police station area of ​​Lucknow.
According to ADG Law and Order Prashant Kumar, the intentions of Minhaj and Maseeruddin were known to all three of their associates. The three Ansars had also joined the Gajwatul Hind module. The ATS is trying to get more information from the trio. All three will be produced in court on Thursday. ADG Law and Order Prashant Kumar said that Shakeel is a named accused in the case registered at the ATS police station. He had the most active role in getting Minhaj the weapon. There are other charges against him as well. Mustakim was aware of the entire conspiracy and was in constant touch with Minhaj and Masiruddin. The involvement of Mueed in other allegations has also come to the fore.
Let us tell you that the dreaded terrorist organization Al Qaeda was planning a big conspiracy to shake Uttar Pradesh. Terrorist designs were of blasts in many cities before Independence Day. Not only this, there was a conspiracy of terrorist incidents in Ayodhya, Mathura and Kashi also. ATS has thwarted this big conspiracy with promptness. On Sunday, two terrorists, Minhaj Ahmed and Maseeruddin, associated with the terrorist organization Al Qaeda-backed Ansar Ghazwatul Hind, were arrested from Lucknow. During that time two of his companions had escaped. Now ATS is also exposing other terrorists associated with them.
Many youths of Uttar Pradesh are associated with this module of Al Qaeda and investigation is being done about them too. Many youths have also come to the fore of making human bombs, after which other intelligence agencies including IB have become more active. The ATS has conducted raids in many cities including Kanpur and the suspects are being detained and interrogated intensively. The entire state has been alerted. The border has also been sealed. Sources say that BJP leaders were also the target of terrorists. After the terrorist conspiracy came to the fore in the state before the assembly elections, the investigating agencies are investigating on many points. It is also being ascertained whether any vicious circle was created to target even big leaders in Uttar Pradesh. Terrorist Minhaj's house is only some distance from the house of Union Minister Kaushal Kishor.
Pistol was bought for forty thousand rupees: Minhaj had bought a pistol for forty thousand rupees, in which Shakeel also played an important role. However, it is not yet clear from where and from whom the pistol was purchased, ATS officials said. Further investigation is underway on this point.