Author Alisha Begum Was Spotted at The Closing Ceremony of Kolkata International Film Festival
His Possessive Love famed Author cum Spiritual Coach Alisha Begum who was spotted at the Closing Ceremony of 28th Kolkata International Film Festival at Nandan (KIFF).
Mr. Shakeel Akhtar, the president of Kolkata District of International Human Rights Commission had invited the author as a guest to be present at the Closing Ceremony of KIFF. The 28th edition of the prestigious film festival, which kicked off in Kolkata on December 15 and came to end on December 22, 2022. A total of 183 films, including 52 short films and documentaries from 42 countries across the globe, had been screened in the span of eight days.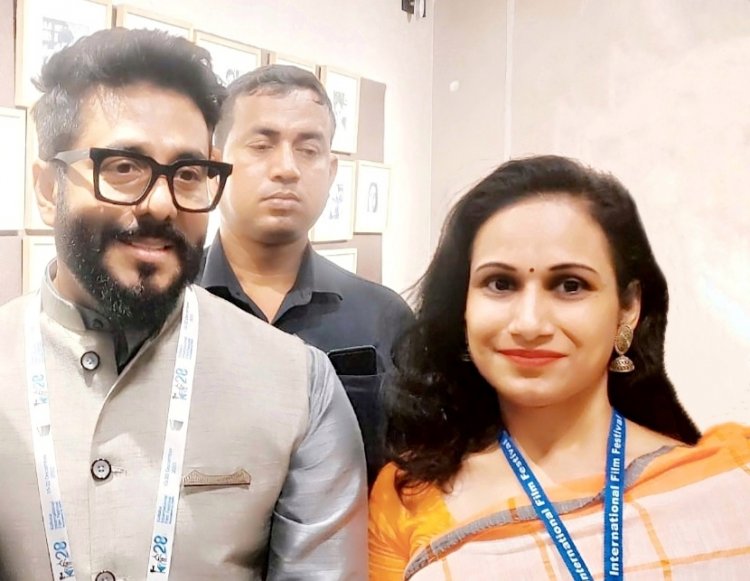 She had been spotted with many eminent personalities of the Tollywood Industry, such as none other the Director-Producer, Mr. Raj Chakraborty who is also the chairperson of KIFF 2022.
She was found sharing frames and exchanging words with the talented actress Jaya Seal Ghosh known for her versatility and for her great acting skills in movies of different languages.
The author was also spotted with Arindam Sil, the actor- director whom the world known for films like Meri Pyaari Bindu (2017) Gunday (2014) Kahaani (2012) Byomkesh Goitro and many more.
Alisha Begum, aka Alishluv, is the member of International Association of Therapist and Core Spirits. She has been recognized as one of the Top Coaches by the Coach Foundation. She did her Advanced Diploma in Spirituality from CTAA. Growth Mindset from College of London, and Energy Healing from University of New Mexico. She is also a certified trainer in REBT, Treating Depression, Managing stress and Anxiety.
Known for her romantic fiction novels, audio/ video tapes and her list of high-profile clients, Alisha has successfully structured her philanthropic interests to inspire and encourage others in following their life dreams. Her online classes, study materials, creative tools and books have played a prominent role in adding lights to the dark of many. She offers 1:1 Coaching, group coaching, workshops, and retreats. Her expertise lies in Energy Healing and Aura Balancing.
Alisha Begum's debut novel, 'His Possessive love', starts like a fuming hot love – hate tale of Fahad and Aasma, the two protagonists but as its progresses, it turns into a lover's obsession until they realize that what possessive love took the world by a storm. Her writing is fresh and hard-hitting. She writes stories that are relatable to a younger audience that struggles with love and relationship. Her Spiritual transformative guided journals named Healing Soul, Love yourself a little more, Love and Gratitude and Be the Unstoppable have transformed the lives of many individuals.
She believes that in order to arrive on a purpose, one need to finds a rhythm, between life and career until and unless it becomes harmonious
To know more about Alisha's latest update follow her on Instagram @Alishluv7 or visit her website: www.alishluv.com.